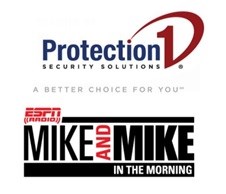 Chicago, IL (PRWEB) November 13, 2013
Protection 1 and ESPN's Mike and Mike invite viewers to watch the recently launched commercial, and get Greeny's cookies! Participants can then comment and share with #ProtectYourCookies for a chance to have Greeny's cookies delivered to them. The commercial, plus behind the scenes videos, have already reached over 40,000 views on YouTube with more than 20,000 views of the commercial itself!
Protection 1 is holding a daily giveaway for those who view, comment and share the commercial hosted on YouTube. Winners will be contacted and mailed a dozen cookies from Sono Baking. The campaign has received over 150 direct replies on twitter and over 55 #ProtectYourCookies hashtag uses. Mike Golic and Mike and Stacy Greenberg have generated 168 re-tweets and 512 favorites through their media accounts. Protection 1 wants you to #ProtectYourCookies and win!
The campaign is airing now on ESPN and ESPN Radio. For more information, visit us on Facebook, Twitter, Google+ and YouTube and check out our Protection 1 blog to find out the latest.
About Protection 1
Protection 1, the largest full service business and home security company in the U.S., provides installation, maintenance, and monitoring of single-family home security systems business security systems and multifamily security systems. The company's relentless focus on customer service has resulted in the removal of their automated phone attendant, the introduction of the Tech Tracker service and the ability to provide same-day service in most cases. In 2012, the company was recognized by leading industry publication SDM as Dealer of the Year for the unique ways the company approached its business, the industry and the surrounding community that year. Protection 1 is also the nation's largest provider of wholesale monitoring services, through its CMS division, and the leading provider of multifamily security systems installation, maintenance and monitoring through its Network Multifamily division. Protection 1, which serves more than 1 million customers and employs over 2,500 people in more than 70 locations across the country, has a 95.6% customer satisfaction rating and an A+ Better Business Bureau Rating. For more information about Protection 1, visit Protection1.com.