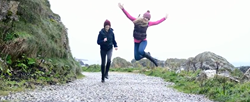 Creativity, humor, originality, surprising elements, and connecting with us through emotions and fun is what the contest is all about. - Jean Larivée, CEO of ProChaps
Montreal, Quebec (PRWEB) November 14, 2013
ProChaps, a Canadian manufacturer of equestrian riding chaps, invites the equestrian community to participate in their "Never without My ProChaps" contest. From November 14 until December 23, ProChaps is looking for the most creative videos featuring equestrians wearing their chaps in uncommon situations.
"Creativity, humor, originality, surprising elements, and connecting with us through emotions and fun is what the contest is all about," says Jean Larivée, CEO of ProChaps.
Participants who use their imagination and creativity to create videos showing them riding chaps in extraordinary, uncommon and fun circumstances, will receive a 25% discount applicable on ProChaps purchases good until January 31, 2014. Creative videos will also be featured on ProChap's branded YouTube, Facebook and Pinterest pages for the equestrian community to admire. To track the contest on social media, search #Neverchapless.
All participants who adhere to the rules will automatically be entered to win one of four prizes. The first place prize will award a lucky winner with a pair of ProChaps' Athletic riding chaps; the second place winner will receive ProChaps' Competition II riding chaps; the third place winner will receive ProChaps' Competition riding chaps, and the Public Prize will send a lucky winner ProChaps' Fit riding chaps.
The winning entries will be decided by a panel of judges consisting of 4 professionals: Julie Villeneuve General Manager at Québec à cheval, Kalie McKenna Manager, Coaching at Equine Canada, Whitney Weston, International Eventer at Whitney Weston Eventing and Jean Larivée, CEO at ProChaps Corporation. The fourth prize will be awarded by the public's favorite pick.
The riders can learn about the "Never without my ProChaps" contest on the official ProChaps® website: http://www.prochaps.com/cad_en/concours/.
About ProChaps
ProChaps high performance athletic equestrian equipment is well known for their technical qualities, comfort and exceptional adjustment. ProChaps unparalleled design is meant to meet the needs of any riders professional or amateur. Their unique concept can fit with elegance and ease any silhouette from XXS to XXL. With a focus on a classic and innovative fashionable design, ProChaps intertwines exemplary athletic materials to achieve peak equestrian performance.