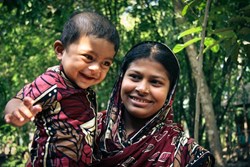 Although the world is full of suffering, it is also full of the overcoming of it. – Helen Keller
New York, NY (PRWEB) November 14, 2013
Inspired by the words and work of our founder, Helen Keller International offers meaningful, memorable gifts to honor someone special this holiday season.
A Helen Keller International Tribute Gift is a perfect way to say thank you to a parent, teacher, colleague or friend who has brought inspiration and happiness into one's life, while providing the priceless gift of sight and life to some of the world's most vulnerable.
Dedicated to saving the sight and lives of women, children and families in Africa, Asia and right here in the United States, Helen Keller International combats the causes and consequences of blindness and malnutrition with proven, cost-effective solutions.
Tribute Gifts embody the true spirit of the holidays, empowering and inspiring the gift maker and recipient with the knowledge that their donation will truly make a difference. Every minute 72 children benefit from a Helen Keller International program.
This year, Helen Keller International once again received a four-star rating from Charity Navigator, the country's premier charity evaluator, ranking it among the top two percent of all US charities in terms of financial health, accountability and transparency.
Helen Keller International Tribute Gifts can be made online at donate.hki.org in almost any amount and support a wide variety of programs designed to reduce hunger, poverty and preventable blindness including:

Provides a comprehensive vision screening and a new pair of prescription eyeglasses for a child living in poverty in the US.
80% of a child's learning occurs through the eyes and about one in four children in the US will develop nearsightedness, farsightedness or astigmatism before they finish high school. With the average cost of a pair of prescription eyeglasses at $263, this simple solution becomes out of reach for children living in poverty. This gift of clear vision can not only help a child in need see the board in class and read books, but build confidence in their abilities, continue to grow academically and socially, and have a better chance of succeeding both inside and outside the classroom.
Provides sight saving cataract treatment in rural Myanmar, where eye health services are out of reach for many poor families.
Cataract is the number one cause of treatable blindness in the world, affecting more than 18 million people or 48% of all blind adults. People like U Sein Cho, a 47-year-old farmer living in the rural village of Boe Chaung, who suffered from bilateral cataract which worsened to a point where he could no longer work, pushing his family further into poverty. Earlier this year, he traveled eight hours by train to the Sagaing Secondary Eye Center which, with the help of Helen Keller International, is providing quality, sight saving treatment for the poor regardless of their ability to pay.
Provides one year's worth of life and sight saving vitamin A supplements to 100 children in Mali.
Vitamin A Deficiency compromises the immune system of children, especially those under five, increasing their risk of dying from malaria, measles, diarrhea and other treatable diseases. Two high-dose vitamin A supplements can reduce childhood mortality by up to 24% at a cost of just $1 per child each year.
Establishes a homestead gardening program that can yield fresh, nutritious food for 20 families in an impoverished village in Bangladesh.
In addition to helping combat malnutrition for millions of families, these gardens empower women, who organize and run 90% of the gardens, with the ability to contribute to the economic stability of their families and become decision makers in their communities.
For each Helen Keller International Tribute Gift purchased, the recipient receives a beautiful color card on behalf of the sender, keeping the amount of the donation confidential.
Visit donate.hki.org to learn more about how Helen Keller International Tribute Gifts support vital efforts in preventing blindness and reducing malnutrition around the world.
Founded in 1915, Helen Keller International's mission is to save the sight and lives of the most vulnerable and disadvantaged. HKI combats the causes and consequences of blindness and malnutrition by establishing programs based on evidence and research in vision, health and nutrition. Visit http://www.hki.org for more information.