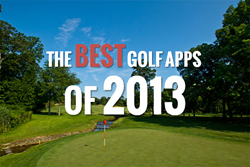 The best golf apps of 2013 from Handicap to Rules of Golf
Miami, FL (PRWEB) November 14, 2013
As the end of the year comes closer it is time to discuss the best golf apps of 2013. This list is compiled with the 5 golf apps that every golfer should own to keep track of their own golf experience at its fullest.
From free USGA Handicaps, to GPS, to golf games, to swing analyzers, and more. Here is the list of best golf apps of 2013:
1) Best Golf Tracker for USGA Handicaps and GPS App: TheGrint
TheGrint is the most complete Golf Handicap Tracker and GPS rangefinder in the market. It also provides a lot more than just that, which makes it the best: Free USGA Handicaps, Powerful easy to use GPS Rangefinder, Scorecard Picture Service, Full Suite of Stats, Live Leaderboards, Friend updates, and much more. Download at http://www.TheGrint.com
2) Best Rule Book: USGA The Rules of Golf
This app is the perfect help to get out of a ruling situation while on the course. You can quickly find ruling based on the situation.
Download it and use it next time you are faced with a difficult ruling situation. The app still needs some work for making it a little easier to navigate and find rules, however it is the best available tool out there, and it comes from the people who actually makes the rules. The USGA Rules of Golf app.
3) Best Golf Game: Super Stickman I & II
Have time to waste? Waiting on an airport for your flight? Stickman golf 2 is the best golf game out there. Easy to use, super fun to play and even better when competing with friends.
It is similar to Angry Birds, but golf. And when is golf it is always better.
4) Best Swing Analyzer: V1 Golf
Need to improve your swing but have no money or time for lessons? You need to understand your swing first.
V1 Golf comes with a price of $4.99. This is the most used golf swing analyzer app. Among other things, you can compare your swing to PGA pros like Rory McIlroy, Lee Westwood and many others.
5) Best Live Streaming App: Golf Channel App
This app is awesome to watch live streaming video of PGA Tour events and more. Also helps see live scores of these events.
Great to keep up to date with news about professional golf.
This list was created and distributed by Grint Solutions LLC. Let us know if you have comments or suggestions for future lists.