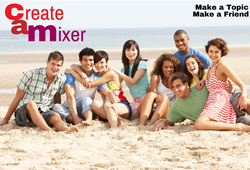 The website encourages guests to create new friendships by attending video "mixers", which are topic based events created by visitors to the website.
Austin, Texas (PRWEB) November 14, 2013
Wyanet LLC, an Austin, Texas area-based startup, has released a beta version of its webRTC-based video social network at https://createamixer.com/.
The site encourages guests to create new friendships by attending video "mixers", which are topic based events created by visitors to the website. When a visitor attends a mixer, he or she will encounter a slideshow consisting of other guests attending the event. When guests encounter people they want to have a video chat with, they click a button under the image of the person they're interested in. If that person accepts the invitation, the createAmixer service initiates a video chat session.
When guests first register with the site, they are encouraged to use their video camera to take a picture of themselves so that others can see them during the video mixer. If a guest declines to take the picture, a generic avatar is shown to represent them during the mixer.
There are no traditional profile pictures, which means that guests attending mixers will see other guests as they actually look, according to President and Creative Director Chuck White. "The idea is that this is a live video event so who you see should be who you get. So we decided to eliminate the whole concept of profile pictures that typically are found on social networking sites. The video camera takes a picture of the guest and stores it, and this becomes the profile picture." White said that guests can retake their picture as often as they need to "get it right".
White explained that mixers are based on topics chosen by the guest who creates the mixer. "For example, if guests are interested in Star Trek, they can create a mixer based on that topic. Or football. Or badminton. It doesn't matter, as long as it isn't offensive." Guests can also search for topics they are interested in, according to White. "When guests create mixers, they can add their cell phone number on the mixer page to be alerted when others join the mixer. The same holds true if a guest visits a mixer with no guests attending. "
White added that mixers also have a flagging system. If a guest engages in inappropriate behavior, "other guests can just click a flag icon to flag the offender," said White. "Three flags and you're out. We remove any guest with three flags, because our thought is that if three people have said you aren't acting appropriately, then you probably aren't."
The video service is based on WebRTC, according to White, which is an emerging standard for video streaming in browsers without the use of plugins such as Flash. "The plus side for this is that there are no plugins needed, including Flash, for Firefox and Chrome users" said White. "The negative is that we currently only support Internet Explorer through the Chrome Frame plug-in that Google offers." White stated that there are no plans to offer alternatives to support Internet Explorer. "Microsoft is just not on board with WebRTC in a way that is helping promote the standard," he explained.
Another feature of the website, according to White, is a photo blog area called "Top-Pics" that allows guests who may be shy about venturing into the world of video chat to simply post pictures and micro blogs about whatever they wish. "Not everybody is comfortable talking on video cameras with strangers", White acknowledged. "We felt that if we only gave guests the mixers and they didn't feel like attending, they wouldn't be engaged with the site. Allowing guests to upload photos and blog about whatever is on their mind will hopefully help them get comfortable with the idea of taking the next step, which is a video chat."
The Top-Pics photo blogging area of the site also has a flagging system. White said the number of flags that make a photo blog disappear won't be revealed to website visitors. "Honestly, the number may change. We're just getting started, so we need to look at patterns. Right now, we do have a number set, and what happens is the photo blog just disappears if a specific number of other guests flag it. We don't kick guests out for inappropriate blogs yet, though. We just remove the posts."
The service is currently free, but a pricing structure for video services will be announced after the beta period, said White. The Top-Pics area will "always be free" he added.
Mobile apps for createAmixer are currently in development, according to White. "WebRTC is still a bit of a moving target, so we're still wrapping up development of the mobile apps for createAmixer," White explained.
Wyanet LLC, the corporation responsible for createAmixer, is a web development services company led by Chuck White, who spent eight years as a software engineer for eBay, Inc and PayPal. The createAmixer website is bootstrapped with no outside funding. Guests are encouraged to try https://createamixer.com/ during the beta period while the video service is still free.