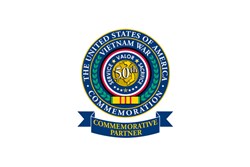 I am proud that MOAA has joined this 50th Anniversary of the Vietnam War Commemoration to honor veterans and their families who have sacrificed so much for this nation. Many have given their lives."
Alexandria, VA (PRWEB) November 12, 2013
Military Officers Association of America (MOAA) is proud to announce its partnership in the Vietnam War Commemorative Partners Program organized to help a grateful nation thank and honor America's Vietnam veterans and their families for service, valor and sacrifice as part of the Vietnam War 50th Anniversary.
MOAA will kick off the partnership at its 2013 Annual Meeting in Colorado Springs, Colo., Nov 14-16. Members and guests will learn about the program and are encouraged to ask its Chapters to join.
MOAA became a Commemorative Partner in May 2013 and had an exhibit at their spring Career Fair in Washington, D.C. as well as social media activities about the Commemoration.
"I am proud that MOAA has joined this 50th Anniversary of the Vietnam War Commemoration to honor veterans and their families who have sacrificed so much for this nation. Many have given their lives," MOAA president, Vice Adm. Norb Ryan, USN-Ret., said. "I have to give our Vietnam Veterans tremendous credit for their leadership in getting the American public to understand that no matter what the war or how popular or unpopular it is, the troops are following the orders of the Commander in Chief, and our Vietnam Veterans again have passed a legacy onto this nation that we will never again disrespect our troops like we did when they came home from Vietnam.
"MOAA's mission is to make sure we keep a strong national defense. We must balance support for our weapons systems, training and logistics, with the one weapon system that has never let this country down, our men and women in uniform. Whether servicemembers, veterans, families or survivors, we need to keep our sacred commitment to our military," Ryan continued.
About MOAA:
Military Officers Association of America (MOAA) is the nation's largest officers association with more than 380,000 members from every branch of service, including active duty, retired, National Guard, Reserve, and former officers and their families and survivors. MOAA is a nonprofit and politically nonpartisan organization and an influential force in promoting a strong national defense. MOAA represents the interests of service members and their families in every stage of their lives and careers, and for those who are not eligible to join MOAA, Voices for America's Troops is a nonprofit MOAA affiliate that supports a strong national defense. For more information, visit http://www.moaa.org or http://www.voicesfortroops.org/.