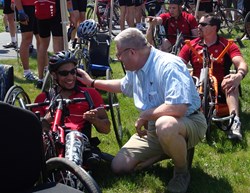 One of the most interesting aspects of this project is how the volunteers span such a wide area of age, occupation, and financial standing.
Gettysburg, PA (PRWEB) November 13, 2013
Each April, United States Marine Corps Staff Sergeant Stan Clark coordinates the successful Gettysburg finale for the Face of America bicycle ride from World T.E.A.M. Sports. It is his dedication, however, to the National Wreath Project that brings together the residents of this historic southern Pennsylvania community.
Since 2006, the annual National Wreath Project from the non-profit Sgt. Mac Memorial Foundation places festive holiday wreaths on military gravestones at the Gettysburg and Quantico, Virginia National Cemeteries. In 2012, more than 1,000 volunteers assembled the wreaths and placed them on 7,000 graves. For the December 6 and 7 event, the foundation will spend $64,000 to place wreaths on 8,000 graves.
"One of the most interesting aspects of this project is how the volunteers span such a wide area of age, occupation, and financial standing," said Clark, who served six years with the 2nd and 3rd Marine Divisions. "[It's] a very diverse group of people – all assembled together for one common cause. It is really great to see this happen and I always promise people that if they attend, they will have fun and not be disappointed."
With sponsorship from Giant Food, ABF Freight Systems, and Jacoby Transportation, the National Wreath Project depends greatly on volunteer assistance from regional residents who donate time to tie bows on the wreaths, add labels and then place them on gravestones. A number of veteran organizations, including the American Legion, VFW, Marine Corps League, and Forty & Eight also provide assistance. Public financial support helps cover costs in purchasing the natural pine wreaths and supplies.
"Although we have good support, we are always looking for more so that we can maintain and possibly even expand the program each year. Fundraising is becoming more difficult all the time and there is lots of competition out there for the donation dollars," Clark explained.
The project was begun by Susan McColley, the mother of United States Marine Sgt. Eric McColley, a 23-year-old Gettysburg High School graduate who lost his life in the February 17, 2006 collision of two Marine helicopters off the coast of Africa. "Eric's mother was saddened when she visited Eric's grave and very few surrounding graves had any wreaths or evidence of visitation," Clark recalled. "She decided to try and correct this by bringing a new wreath each time they went to Eric's grave – they would take the old one and put it on an adjoining grave. At Christmas in 2006, they took over 100 wreaths to the cemetery and did as many grave sites as they could."
Honorably discharged from the Marine Corps in 1976, Clark and his wife Candice moved to Gettysburg in 1985. Active in local veterans groups, the Maryland native worked in the real estate and construction industries until 2003. Since 2007, Clark helps raise funds for a $2,000 scholarship through the Brian LaViolette Scholarship of Honor Foundation. In honor of Sgt. McColley, the scholarship is presented annually to a Gettysburg High School student entering the military or going to college for public or community service.
Learning about World T.E.A.M. Sports and the Face of America ride from the late Corporal James "Seamus" Garrahy, who hosted the ride at his Gettysburg farm for several years, Clark finds inspiration from the annual two-day, 110-mile bicycle ride with more than 100 injured veterans.
"Although the extent of my involvement has been primarily the logistical end of it at the finish and finale – I have had the opportunity to speak with hundreds of participants over the years," Clark said. "It is uplifting and inspiring to see these folks take on such a challenge and master it. I can only imagine a little how it builds their spirits to accomplish the Ride. It is humbling to be in the midst of such determination and courage. I love it!"