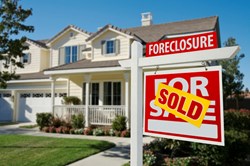 Stone Ridge, New York (PRWEB) November 19, 2013
Prudential's Nutshell Realty, located in Stone Ridge New York, reported the lowest foreclosure listings in over 8 years. Not since 2005 have the foreclosure properties been so low. In September, 2013, the foreclosure filings hit the lowest level since 2005 according to RealtyTrac MLS listings for the Ulster County area.
Nutshell Broker and owner Thomas Jackson says, "The increasing home prices and drop in homeowners owing more on their mortgage loans than the home is worth has been the number one reason for the decline in foreclosures."
Many foreclosures are due to the inflated years of the housing bubble in 2006 and because of tighter lending standards homeowners have had difficulty in refinancing or obtaining new loans. With the rise in property values and home prices, many homeowners are now able to either refinance or sell and gain a slight profit rather than be underwater in the properties mortgage.
Jackson states that there is still a lot of clean up to do, however. "We all need to learn from our mistakes; the housing and mortgage industries. We certainly don't want to cause any more housing crisis in the future."