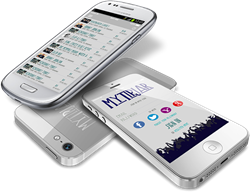 Finally, a way to tip bands when you don't have cash!
Nashville, TN (PRWEB) November 13, 2013
Let's face it, less people carry cash these days which has resulted in artists and bands seeing a decline in tips. The MyTIpJar app, available on both Android and iPhone, enables fans to tip directly from their phone after download and a less than 2 minute account set up.
"With band revenue down, we hope this becomes a way for an artist to earn the money necessary to stay artists, and keep producing the music that is the life blood of this and many other cities around the country," said Founder Will Mulligan.
MyTipJar goes beyond just being a mobile app for tips. The website allows the artists to put in profile information, showcase upcoming shows and link to their website. New features are already in development to allow upload of music tracks for download and social sharing.
People using the app are able to see who is playing nearby with geo-location functionality allowing users to see other bands near them, and search venues for upcoming events.
With over 75 bands already signed up, there is great anticipation for viral growth and adoption by fans. MyTipJar waited to make a major push until it was available on both Android and iPhone to gain downloads as quickly as possible.
"We didn't want to leave out 67% of the smartphone owners in the country. It's important to us for bands to really gain from promoting the app, and for fans to show their appreciation," said John Maddox, investor in MyTip Jar and CEO of Serious Startups.
To Download For iPhone Click Here
To Download For Android Click Here
Bands can register for FREE at http://www.my-tip-jar.com.
MyTipJar was developed in Nashville after founder Will Mulligan had the idea at a live show. The idea was quickly developed by Nashville based software company DevDigital, LLC, and been taken on for equity by tech startup company Serious Startups to help grow the user base.