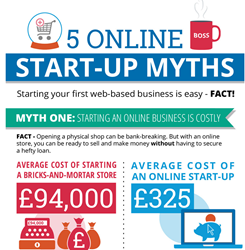 London, United Kingdom (PRWEB UK) 13 November 2013
PaymentSense has created a new infographic that looks to debunk some of the myths that surround setting up an online business.
The card payment company is hoping to encourage people to be less apprehensive about starting their own online business by tackling a few of the fears that first timers might have.
The five online 'myths' the company addresses in the infographic are:
1. Starting an online business is costly
When comparing the cost of setting up online and on the high street, the difference is nothing short of astronomical. A website may cost a few hundred pounds to set up, but opening a bricks and mortar establishment will undoubtedly run into the tens of thousands.
2. Setting up an online store is only for the tech-savvy
Don't be overwhelmed by technology behind a website. Creating a web-based business couldn't be easier these days. Off-the-shelf site building packages are readily available, shop creation tools can be downloaded for free and platforms such as WordPress have made it possible for anyone to set up a site in minutes.
3. Reaching out to customers is hard
One in five people shop more online than on the high street, so when it comes to online footfall there's no need to worry. And with consumers becoming increasingly comfortable using their phone or tablet to buy online, customers can shop on a website from anywhere at anytime.
4. It's difficult to process payments
A lot of small businesses just use their site as an online showroom and don't bother to turn it into a fully transactional web store. With lots of different online card payments options out there that are quick, simple and affordable, there's really no reason not to have site that sells.
5. Making a profit will be tough
Online spending is set to tip the digital scales at around £90 billion in 2013 (up 14% on last year) and if that's not a good enough reason to start an online business then the fact that more people shop online in the UK than anywhere else in the world certainly is.
Announcing the launch of the infographic, Gemma Eaton, e-commerce product manager at PaymentSense, said: "If you've got a good idea for a web-based business and the determination to make it work, then don't let a few small fears stand in the way of your success. Read through our infographic and take some inspiration from the fact that it really is the best time to be starting out online."
PaymentSense can provide businesses with everything they need to take online payments through their website including a merchant account, payment gateway and customisable payment page.
The company is the only payment provider to offer a 24 hour online card payment set up and has some of the most affordable payment packages currently available.
Access the Infographic
If you would like to use the infographic on your site please follow the link below. You will find the embed code at the foot of the page.
Find the Infographic Here: http://www.paymentsense.co.uk/5-online-start-up-myths/
---
About PaymentSense
PaymentSense was founded by serial entrepreneurs George Karibian and Jan Farrarons. As the UK's largest merchant service provider, PaymentSense enables 30,000 SMEs to process over £3 billion of card payments per year. From chip and PIN machines to e-commerce services, PaymentSense supplies small businesses with card processing solutions that allow them to take payments instore, online, over the phone and on the move. PaymentSense was recently ranked 7th in The Sunday Times Tech Track 100 and has been shortlisted for the National Business Awards and European Business Awards.