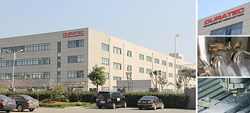 (PRWEB) November 13, 2013
DuratecPlastics.com, a well-known company of injection moulding services, has recently released its new plastic part collection. Many clients find themselves worried that they cannot use the plastic parts skillfully. With this problem in mind, DuratecPlastics.com will be hosting a seminar next Monday at No. 5, Yejin Road, Wujiang Economic Zone, Suzhou City, China. The company hopes to share its experience with the global customers.
DuratecPlastics.com aims to give customers cost-effective moulds prior to purchasing as well as deliver people great results at the lowest possible prices. The company has updated its website, so all its online customers can learn more about its fresh products and recent marking strategies.
"We are happy to introduce our new plastic moulded items and share our experience with our customers. Our plastic parts are very popular in the international market. We take pride in our plastic mould products. Most of them come with rave reviews in the market. I hope you like the new items and enjoy shopping at our website," the CEO of the company says.
About DuratecPlastics.com
DuratecPlastics.com is the website owned by Duratec Industries Ltd. That specializes in plastic injection moulding and plastic product assembly. The company is located in Suzhou, which is a major tourist city in China and is considered as beautiful as the paradise. The company owns a modern manufacturing and warehousing facility as large as over 12,000 square meters.
More details at http://www.duratecplastics.com/.