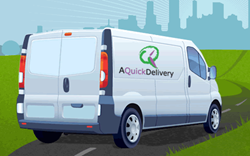 Atlanta, GA (PRWEB) November 14, 2013
AQuickDelivery, a recognized leader in same-day delivery, messenger and transportation services, announces origin and destination rerouting services. The announcement comes in an effort to provide its clients with more value-added service options, improve customer satisfaction, and increase delivery efficiencies. AQuickDelivery strives to be the best choice in same-day courier solutions throughout Atlanta and surrounding Georgia areas.
AQuickDelivery's origin and destination rerouting services consist of allowing its clients to reroute or change all relative locations to their requested courier order. Clients have the ability to contact AQuickDelivery and submit a request to reroute the driver to a different origin or destination on a real-time basis. Since rerouting is usually during the time frame the order is being picked up or delivered, AQuickDelivery contacts the driver immediately to find out his or her exact location to engage in rerouting optimization.
The courier has the ability reroute the driver, unless he or she has already arrived at the destination and delivered the package. This occurs when the client beforehand has permitted AQuickDelivery to leave the package, in the event no one was at the residence or business to sign for it. Clients can still submit a request to go back and pick up the package from the first destination for an additional delivery charge. This charge is calculated via mileage from the initial destination to the rerouted location.
AQuickDelivery offers origin and destination rerouting services for no additional charge, unless the driver has already delivered or has arrived at the origin to pick up. AQuickDelivery strives to meet the various service demands of all of its customers. For an immediate response, rerouting requests are recommended to be placed via phone. AQuickDelivery is available 24/7 to discuss all courier service needs. The Atlanta Courier creates optimal courier service solutions that result in a quality customer experience for its' customers.
AQuickDelivery is a premier same-day courier offering transportation and distribution services. From small packages to palletized freight, AQuickDelivery delivers fast! As a leader in the courier industry, their goal is to perform optimal courier logistic solutions and superior customer service every time. The courier provides same-day delivery successfully for over 1,500 clients, including Fortune 500 companies throughout Georgia.