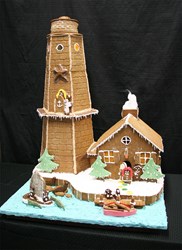 You see kids and families spending a lot of time at the ballot box, giving it very serious thought. – Judith Bacal, Maritime Aquarium exhibits director
Norwalk, CT (PRWEB) November 13, 2013
Twenty-two lighthouses creatively built using everything from Twinkies® and cake frosting to plastic water bottles and a small carousel will light the way for visitors during the 12th annual "Festival of Lighthouses Contest" at The Maritime Aquarium at Norwalk.
The lighthouses were built by local artists looking for a challenge, by families who wanted to work together on a fun project, and by students fulfilling a school assignment. From Nov. 16 through Jan. 20, 2014, Aquarium visitors can follow these homemade beacons through the galleries and cast a vote for their favorite. The lighthouse that gets the most votes wins $1,500.
The display is free with Aquarium admission.
"The best gifts are those gifts that are unexpected yet show great thought," said Judith Bacal, the Aquarium's director of exhibits. "The 'Lighthouse Contest' is like a gift for us each year, because the designs are always so unexpected and the finished works show such thought and craftsmanship."
The contest has entries from residents of cities close to the Aquarium – Norwalk, Stamford and Bridgeport – but also from as far as Newtown, Ansonia and Shelton in Connecticut and Hartsdale and Wappingers Falls in New York.
Bacal noted that half of the lighthouses were made by folks who have entered the contest before. Of those "returnees," the previous four winners are entered again, including last year's top vote-getter, David Bishop of Stamford.
"I think building the lighthouses becomes addictive," Bacal said. "It's fun and creative, but it's also very competitive."
Rules are kept to a minimum to allow for maximum creativity. Lighthouses must be 3 to 6 feet tall and have a working light, and may not include animal remains, such as shells. Beyond that, it's up to the creators' imaginations.
This year's entries include: a lighthouse made from Twinkies®, Ho Hos® and other Hostess snack cakes; a gingerbread lighthouse; one made of tin; one made of green plastic soda bottles; a lighthouse that celebrates the children's board game Candy Land; and one that consists of cake and the icing-like material called fondant. Four entries were built by students at The Ursuline School in New Rochelle, for their "Senior Introduction to Engineering" class.
Bacal said the lighthouses add a festive feel to the Connecticut attraction for the holidays.
All visitors will receive a ballot to vote for their favorite lighthouse.
"You see kids and families spending a lot of time at the ballot box, giving it very serious thought," she said.
Besides the annual contest's $1,500 top award, other prizes are: $750 for second place, $375 for third; $300 for fourth; $225 for fifth; and $150 for sixth. Winners will be announced at an evening reception on Jan. 23.
The 2013 "Festival of Lighthouses Contest" is free with Maritime Aquarium general admission, which is $19.95 for adults, $17.95 for youths (13-17) & seniors (65+), and $12.95 for children ages 3-12.
For more details about Maritime Aquarium exhibits, IMAX movies and programs, call (203) 852-0700 or go online to http://www.maritimeaquarium.org.