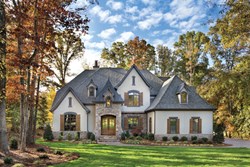 Clearwater, FL (PRWEB) November 15, 2013
Arthur Rutenberg Homes is pleased to announce that its Charlotte franchise, Paragon Homes of Charlotte, Inc., has opened a new fully furnished and professionally decorated Arthur Rutenberg model home, the Bordeaux, in The Club at Longview community.
The Bordeaux is Arthur Rutenberg's newest model home in the Carolinas and is part of the company's Southern Design Collection. The home demonstrates what today's buyers want and blends fresh and innovative design with function and value. The Bordeaux features 5,503 heated square feet with a great room, 5 bedrooms, 5 full baths, 2 half baths, keeping room, den, walk-in laundry room with island, plus a 2nd floor club room with sunken media room.
"The Bordeaux is a spectacular home in Charlotte's premier new home community," said Paragon owner Mitch Genda. "This is the finest model home currently open in the Carolinas today and demonstrates one of the most functional and beautiful home designs in our collection. The overall value of the home is impressive. It certainly demonstrates what Arthur Rutenberg Homes is all about."
Located at 8722 Southshore Drive, the Bordeaux 1221 is situated in The Club at Longview Homes, a private gated Jack Nicholas Golf Course community. This community offers first rate club living in a private natural setting featuring a resort style pool, tennis courts, youth club, fitness & spa facility, and a 28,000 square foot clubhouse complete with a wine room, main & private dining rooms, terraces, bar and lounge.
The model home is open daily Monday – Saturday, 10am – 6pm, and Sundays, noon to 6pm.
To learn more about Arthur Rutenberg Homes at The Club at Longview Homes, please visit or call Chris Dillard at (704) 814-0114.
About Arthur Rutenberg Homes
Arthur Rutenberg is celebrating 60 years in the homebuilding industry and has been a respected name in Florida homebuilding since 1953, when he built his first home upon the four "cornerstones" that would make him legendary: design, craftsmanship, service and responsibility. Today, Arthur Rutenberg Homes, Inc. is one of the largest networks of independently owned and operated homebuilding companies in the nation, with franchised homebuilders throughout Florida, North Carolina, South Carolina and Tennessee. For further information, contact Gabriella Nelms at 727-536-5900.
About Paragon Homes of Charlotte
Owner Mitch Genda serves as president of Paragon Homes of Charlotte. Co-owner Jim Rosewater further serves as group president for the Arthur Rutenberg Homes' five state southern group. Paragon Homes is Charlotte's premier custom homebuilder and also offers custom remodeling and additions services. The company currently operates furnished model homes in the Club at Longview and The Woodlands at Cheval, current location of the 2013 Charlotte HomeArama.
In addition to Longview, Paragon Homes of Charlotte builds in Springfield, River Oaks and Heron Cove in, SC, plus Highgate, Firethorne, and other premier communities throughout South Charlotte.