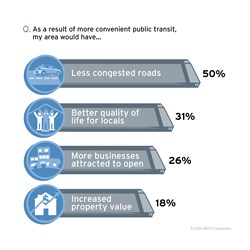 Healthy cities make funding transit a priority because systems like bus rapid transit or light rail can generate loads of positive economic outcomes with just a single investment.
Kansas City, MO (PRWEB) November 13, 2013
A new America THINKS survey from HNTB Corporation shows more than 7 in 10 (71 percent) Americans already see public transportation as more reliable than unreliable. The research also finds most Americans see public transit as a money saver and, for many, a requirement when relocating.
In fact, nearly half (48 percent) of Americans say they would require an area to have good public transportation before they would consider moving there. More than 2 in 5 (46 percent) Americans say a different area having a good public transportation system would make them more likely to move there. There is an age differential, with those 18-39 years old more likely to share this sentiment than those 40 and older (51 percent versus 43 percent, respectively).
The availability of good public transportation would have a positive influence on 90 percent of Americans if they were selecting a different area to live in.
"According to the American Public Transportation Association, for every $1 cities invest in public transportation, they generate $4 in economic returns. Healthy cities make funding transit a priority because systems like bus rapid transit or light rail can generate loads of positive economic outcomes with just a single investment," said Liz Rao, HNTB chair public transit services.
Americans see a range of benefits from more convenient local public transportation options, including less congested roads (50 percent), a better quality of life for locals (31 percent), attracting more businesses to open in the area (26 percent) and increasing property value (18 percent).
In addition to light rail, commuter rail, and traditional buses services, bus rapid transit is a rapidly growing public transit option, offering a lower-cost, more easily implemented alternative to a rail-based commuter transit system, yet still including many popular features of rail-based public transportation, such as routes that are clearly laid out and run on a frequent and reliable schedule.
Like rail, investment in BRT has shown it can spur economic redevelopment. According to a recent study from the Institute for Transportation and Development Policy, which looked at many transit corridors across the country, more than $5 billion in redevelopment has occurred along Cleveland's Euclid corridor, and along Boston's Silver Line BRT, the private sector has invested more than $1 billion.
In fact, Rao said, "because of BRT's low threshold, funding often can be cobbled together from multiple sources, including metropolitan planning organizations, municipal or county transportation funds, or even state highway maintenance budgets." Many cities across the country are studying and/or implementing BRT systems, including Atlanta and Miami.
About the survey
HNTB's America THINKS transit survey polled a random nationwide sample of 1,127 Americans Sept. 5-12, 2013. It was conducted by Kelton, which used an e-mail invitation and online survey. Quotas were set to ensure reliable and accurate representation of the total U.S. population ages 18 and over. The margin of error is +/- 2.9 percent.
About HNTB
HNTB Corporation is an employee-owned infrastructure solutions firm serving public and private owners and construction contractors. With nearly a century of service, HNTB understands the life cycle of infrastructure and addresses clients' most complex technical, financial and operational challenges. Professionals nationwide deliver a full range of infrastructure-related services, including award-winning planning, design, program delivery and construction management. For more information, visit http://www.hntb.com.