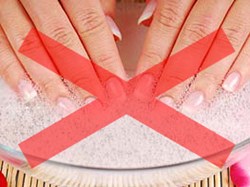 I learned on TheBeautyPlace.com's blog to skip the soaking when I get a manicure and now my mani's last for 2 weeks!
(PRWEB) November 19, 2013
TheBeautyPlace.com recommends using the simplest items, moisturizer & primer to extend the life of the cosmetics used to make a face look beautiful. Using either of these underneath the foundation will ensure long lasting coverage. Plus, it won't dry out and crack towards the end of the day. There are even specific eyeshadow primers meant to keep eye makeup in place all day or night long.
Similarly, moisturizer helps maintain a glowing tan longer whether it is from the sun or from a bottle. The added moisture on the skin locks the bronze in place for extra days.
When it comes to hair care, add some olive oil to your daily conditioner, or deep conditioning hair masque. Mix it well to get an even deeper conditioning and stretch the product out for more uses. Use a dry shampoo to keep a holiday hair style looking flawless for an extra day.
Make that yummy spritz of perfume go the extra mile by spraying it in the correct spots. The back of the knees, behind the ears, wrists and décolletage emanate heat from your skin and sends the scent into the air around you.
Finally, the manicure that's splurged for during the holiday season can become more of a drag than a pleasure when it chips in a couple days. Apply a layer of clear top coat to nails every day to ensure a longer lasting manicure.
The Holiday season is about giving to others, and while TheBeautyPlace.com offers amazing deals on beauty products, it doesn't cover all that one has to take care of. Being resourceful is a great way to get through the Holiday season looking fabulous!