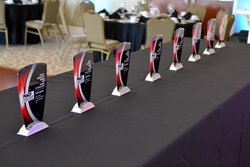 The annual Awards for Excellence in manufacturing and supply chain performance recognizes the hard work and dedication of the people in this industry.
Sanford, Fl (PRWEB) November 18, 2013
Hernon Manufacturing, the innovator in adhesives, sealants and dispensing equipment, is pleased to announce that its Sales and Marketing Director, Edgardo Rodriguez, was recently awarded the 2013 Manufacturers Association of Central Florida's (MACF) Presidents Award.
The award categories honor recipients from the following categories:

Small Manufacturer (less than 100 employees)
Large Manufacturer (101+ employees)
Supply Chain/Associate Member
Community Partner
President's Award & Outstanding Contributors (chosen by MACF Board President)
All of the Candidates for the MACF Awards of Excellence were nominated from the local manufacturing community, with the exception of the President's Award and Outstanding Contributors, which was chosen by Ken Brace, the MACF Board President. All nominated companies and individuals needed to be members in good standing of MACF.
"The Annual Awards for Excellence in manufacturing and supply chain performance are yet another way that MACF brings our community together and recognizes the hard work and dedication of the people in this industry," said Edgardo Rodriguez, Hernon Manufacturing's Director of Sales and Manufacturing. "I am honored to accept the MACF President's Award."
The Annual Dinner, which took place at the Lake Mary Events Center in October, featured a networking reception as well as a dinner and awards program. There were opportunities to sponsor corporate tables during the dinner, vendor tables during the reception as well as center pieces and program sponsorship opportunities.
During the event, in addition to the awards being presented, the keynote speaker, Dustan McCoy, CEO of Brunswick Corporation discussed the future of manufacturing.
Edgardo Rodriguez has been with Hernon Manufacturing for the past three and one half years. During that time his tenacity and drive has propelled the company to new heights including a 32% increase in annual revenues last year. The company employs 40 people within its manufacturing and research laboratory in Sanford, Florida. Rodriguez is an active member of the MACF.
The MACF is a non-profit organization enhancing the manufacturing industry in Central Florida. For more than twenty years, the MACF has worked as a not-for-profit organization; to not only elevate the image of Central Florida's manufacturing sector, but also to be a tangible resource to local manufacturers.
HERNON Manufacturing has been committed to delivering world class adhesive, sealant, and impregnation solutions along with precision dispensing systems for nearly four decades. A long-time member of Central Florida's industrial manufacturing community, HERNON offers strong brands and technologies, all made in the United States, for a diverse range of industries including: Energy/Power Generation, Medical, Electronics, Electrical, LED, Automotive, Appliances, Sporting Goods, Ammunition, Communications, Aerospace, Aviation, High Tech Audio, Defense, Fire Suppression, Transportation, and Marine. HERNON Manufacturing is proud to be an ISO-9001 and ITAR registered company whose products meet or exceed Mil-Specs.

Awarded 2012 ThinkGlobal Exporter of the Year
Nominated one of Florida's Top Companies to Watch in 2012
Received the 2012 William C. Schwartz Industry Innovation Award
Named 2013 State of Florida Small Business Exporter of the Year
Visit http://www.hernon.com or contact 407-322-4000 for more information.