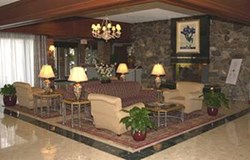 All our deals are focused at offering maximum value for money.
Rochester, NY (PRWEB) December 02, 2013
Greenbee Parking, a fast growing airport parking service, has announced a range of new parking deals for travelers using the Rochester (ROC) airport. With these new deals in place they will no longer feel the need for Rochester airport parking coupons to save on their airport parking expenses. The young entrant to the market has already established itself as a reliable service provider for flexible parking offers. What sets them apart is a wide range of flexible deals that make it possible for travelers to save anything between 30-75% on their usual parking expenses. While there are naturally fabulous deals for long term customers, even those booking the space for a shorter duration can hope to save much more than ever before.
"All our deals are focused at offering maximum value for money," said Christine Cooper – Marketing Coordinator, Greenbee Parking. "To this end we are constantly focused at creating deals that will allow for maximum customer comfort and savings. For our Rochester customers we are confident that our deals could negate the need for Rochester airport parking coupons (http://www.greenbeeparking.com/NEW_YORK/ROC/Coupons-for-discount-ROC-parking/page.html)."
Greater Rochester International Airport Parking Information
Greater Rochester International Airport simultaneously serves Rochester and Greater Rochester along the counties of Monroe, Ontario, Orleans and Wayne among others. Rochester is one of the major alternate business hubs in the state of New York therefore it sees a high volume of tourist footfalls as well as business travelers. For a mid-sized airport it has seen around 1,217,974 total passenger enplanements and around 88,219 total aircraft operations in the 2012 fiscal year. There has been a steady rise in airline operations and subsequently airport business in the recent years leading to major renovations plans for the airport.
A key part of these plans is expansion and improvement of airport parking which the authorities are already working on intensely. Now with private players like Greenbee Parking in the scene, ROC travelers will now have a wider range of options to choose from. There will be affordable and flexible options for all with ample savings options, completely negating the need for Rochester airport parking coupons.
The Greenbee Airport Parking Solution
Greenbeeparking.com is the connection between consumers and parking vacancies in close proximity to major airports and seaports. The parking spaces are very affordable because the company has negotiated discounted rates with major hotel chains for the parking spaces that are not currently occupied. Here's how it works.
Greenbee Parking puts the available inventory of parking spaces on their website to be reserved by business and leisure travelers looking for cheap airport parking. This alternative method for finding parking equates to significant savings for the traveler. You can learn more about their offers from (http://www.youtube.com/watch?v=WWLybHNYjYQ).
About Greenbee Parking
Greenbee Parking is the nation's most innovative long term parking company, with a new way of making long term parking affordable. The company is rapidly adding new airports to its network.