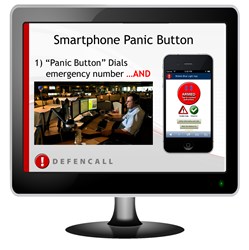 We created the on-demand webinar series as a way to provide the information people want and allow them to review it when it is convenient for them.
New Canaan, Connecticut (PRWEB) November 14, 2013
DefenCall, Inc., a subsidiary of Defentect Group, Inc. (OTC Pink: DFTC) today announced it has released the first entries in its on-demand educational webinar series. These webinars were developed to provide educational information on smartphone panic button and smartphone personal duress button apps.
The first three webinars in the series focus on:

Each webinar explains the details on how these safety apps provide enhanced emergency communication, how they work and review the cost considerations in relation to other alerting systems including blue light phones and wired and wireless panic buttons. Each webinar in the series has a corresponding white paper that is available for download on the DefenCall site. Additional webinars are planned for release in the near future. Webinars can be viewed at http://www.defencall.com/on-demand-webinars/.
"In conducting research among schools, universities and healthcare facilities we found that there was a universal belief that smartphone-based alerting apps would increase safety, but we also found that people felt they needed more education or needed to educate their colleagues," said James C. Ackerly, CEO of DefenCall. "We created the on-demand webinar series as a way to provide the information people want and allow them to review it when it is convenient for them."
DefenCall's apps increase the safety of students, employees, and other communities. The Company's StaySafe line of smartphone apps enables "panic button" alerting to 911, supported by simultaneous text message and email alerts to first responders and administrators who need to know when an incident is occurring at their school, campus or healthcare facility. These alerts include enhanced caller information including name and GPS location.
More information on Campus StaySafe, K-12 StaySafe and Healthcare StaySafe can be found at http://www.defencall.com.
About DefenCall
DefenCall, Inc. (http://www.defencall.com) provides solutions that enhance personal security by connecting community members with first responders and support networks through smartphone technology. DefenCall's products include Campus StaySafe™, a smartphone-based mobile alerting panic button system which connects college students' smartphones directly to campus security departments, K-12 StaySafe™, an alerting system that allows classroom teachers immediate emergency "panic button" access to their administration and local police, and Healthcare StaySafe, a smartphone personal duress button app for hospitals and healthcare facilities.
DefenCall, Inc. is a subsidiary of Defentect Group, Inc. (OTC Pink: DFTC), an intelligent threat awareness firm that develops and markets IP radiation detection and sensor management systems. Defentect is committed to the discovery and deployment of advanced technologies for physical and homeland security.
SAFE HARBOR STATEMENT: This press release may contain "forward-looking statements" that are made pursuant to the "safe harbor" provisions as defined within the Private Securities Litigation Reform Act of 1995. Forward-looking statements may be identified by words including "anticipates," "believes," "intends," "estimates," and similar expressions. These statements are based upon management's current expectations as of the date of this press release. The Company cautions readers there may be events in the future that the Company is not able to accurately predict or control and the information contained in the forward-looking statements is inherently uncertain and subject to a number of risks that could cause actual results to differ materially from those indicated in the forward-looking statements. Further information on these and other potential factors that could affect the Company's financial results is included in the Company's filings with the SEC under the "Risk Factors" sections and elsewhere in those filings.