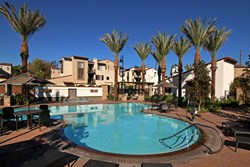 With its location and striking design, Birch Hills defies what most people envision when they hear the words affordable housing. While the rents are affordable for many working families, the look and feel is market-rate quality with exceptional amenities.
Irvine, CA (PRWEB) November 15, 2013
Jamboree Housing Corporation, one of California's leading community development organizations specializing in affordable housing, announced today the grand opening of Birch Hills Apartment Homes, the workforce housing component of the new La Floresta planned community in Brea. Adjacent to the public Birch Hills Golf Course, the new apartment development provides housing for families who earn between 30% and 50% of the Area Median Income (AMI) with rents ranging from $477 to $1,055 per month based on family size and income level.
Birch Hills Apartment Homes is part of the La Floresta planned community currently under development by Birch/Kraemer LLC, an affiliate of Chevron Land and Development. The new property encompasses 115 garden-style apartment homes incorporated within eight three-story buildings, all arranged around central courtyards that are linked by tree-lined, pedestrian-friendly landscaped walks. The Spanish-influenced neighborhood includes 22 one-bedroom, 47 two-bedroom, and 46 three-bedroom apartments with tuck-under garages for each apartment and additional surface parking areas. Adjacent to the property is original artwork designed by Orange County artist, Marlo Bartels, as part of Brea's well-known, city-wide commitment to public art.
"According to the National Association of Home Builders, it is estimated that during this first year of construction Birch Hills will have generated $9 million in local income, $950,820 in taxes and other revenue for local government, and created 140 local jobs. A yearly ongoing positive economic impact includes $2.74 million in local income, $507,150 in taxes and other revenue for local government, and 35 local jobs," Brea Mayor Ron Garcia noted.
Birch Hills embraces smart growth principles and is ideally situated for residents with its location near major retail, entertainment, parks, community services, and robust employment centers that allows residents to work, shop, and play close to where they live. The property promotes an active lifestyle as part of the city's future "The Tracks at Brea," an active transportation, dual tread pedestrian and bicycling trail that will traverse Brea giving residents transportation alternatives beyond car and bus systems.
"With its location and striking design, Birch Hills is a workforce housing development that defies what most people envision when they hear the words affordable housing," said Laura Archuleta, president of Jamboree. "The Spanish-inspired architecture integrates seamlessly with the aesthetic fabric of the surrounding Brea community. While the rents are affordable for many working families, the look and feel of Birch Hills is market-rate quality with the added value of significant green space and exceptional amenities."
"By facilitating shorter commutes, proximity housing provides more time for family and community involvement and it increases a sense of well being and promotes healthy living by allowing more time for exercise, volunteering, socializing and relaxing," said Garcia.
Funding for the multimillion-dollar project was a major challenge in the wake of redevelopment's demise. Financing consisted of $4.75 million in redevelopment funds previously earmarked and protected by the City of Brea. See attached fact sheet for full list of funding provided by the U.S. Department of Housing and Urban Development (HUD), Low Income Housing Tax Credit (LIHTC) equity by Union Bank through the California Tax Credit Allocation Committee (TCAC) and additional construction and permanent financing through Union Bank.
In keeping with Jamboree's commitment to sustainability, Birch Hills is designed to achieve LEED for Homes Platinum certification – the highest LEED rating – offering a significant level of energy efficiency and cost savings to residents.
Resident services provided by Jamboree's Resident Services Group, Housing with Heart, will be specifically tailored to meet the unique needs of Birch Hills residents. Housing with Heart complements Jamboree's belief in creating strong communities that provide opportunities and resources for residents to enrich the quality of family life including: homework assistance and tutoring for young people, plus health and wellness programs and community-building activities for all residents.
About Jamboree: Founded in 1990, Irvine, CA-headquartered Jamboree Housing Corporation is an award-winning, broad-based nonprofit housing development company that develops, acquires, renovates and manages permanently affordable rental and ownership housing throughout California for working families, seniors and people with special needs. HOMES, Inc. and Housing with HEART are 501(c)(3) organizations and comprise Jamboree's Resident Services Group. A leading nonprofit developer, Jamboree is committed to sustaining excellence with high quality affordable housing that is good for the environment, the economy and local communities. It currently has about $88 million in affordable housing projects in its development pipeline and a $1 billion asset portfolio that includes the development of and/or ownership interest in more than 7,000 homes in more than 70 California communities. Currently, Housing with HEART programs and services that foster learning, health and community building are offered at 35 Jamboree communities with designated staff at each location. For more information, go to http://www.jamboreehousing.com.