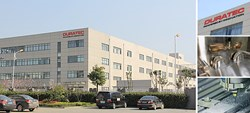 (PRWEB) November 14, 2013
Today, DuratecPlastics.com, a leading Chinese molding company with a focus on plastic injection molding, has released its new plastic parts and announced that all the new plastic parts are offered at discounted prices, from 15% to 35% off.
The plastic part collection consists of safety plastic parts, plastic gears, auto injection plastics and many others. All of them feature delicate craftsmanship. DuratecPlastics.com is famous in the industry for its innovative designs of plastic molded parts,
DuratecPlastics.com has over 10 years of experience in the molding industry, and its expert engineers know how to install dies on machine, according to work order specifications, using clamps, bolts, and handtools. As a result, the plastic parts from DuratecPlastics.com are popular in the global market and they can be used in many industries such as electronics, hardware, machinery, toys, medical instrument, consumer goods and so on.
"We are providing big discounts on our new range of plastic parts. By launching this promotion, we want to expand our online market." Henry, the development manager for DuratecPlastics.com, "We offer plenty of different plastic parts at our website, I am sure you can find what you need in this collection."
DuratecPlastics.com has become a global leader in the industry of plastic injection molding with plant based alternatives. The company is driven by its commitment to creating sustainable solutions for industrial users.
About DuratecPlastics.com
DuratecPlastics.com is the website owned by Duratec Industries Ltd. That specializes in plastic injection molding and plastic product assembly. The business is located in Suzhou, which is a major tourist city in China and is considered as beautiful as the paradise. The company owns a modern manufacturing and warehousing facility as large as over 12,000 square meters. For more information, please visit http://www.duratecplastics.com/.