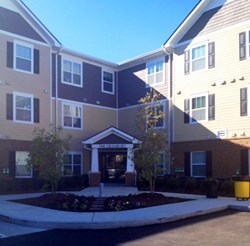 This community enhances this important neighborhood and adds to the quality of life for residents.
Franklin, TN (PRWEB) November 14, 2013
City of Franklin Mayor Ken Moore and Williamson County Mayor Rogers Anderson today headlined a grand opening celebration at Reddick Senior Residence, the first phase of The Franklin Housing Authority's (FHA) multi-phased initiative to replace obsolete public housing with modern communities. Joined by state officials, community leaders, and residents of the new housing, the Mayors heralded Reddick Senior Residence, developed by FHA and The Michaels Development Company in a private-public partnership, as a major step forward in offering quality affordable housing opportunities to Franklin's seniors and families with low and moderate incomes.
"We are so proud of this beautiful new community, which not only enhances this important neighborhood, but which also adds so much to the quality of life for our residents," said Derwin Jackson, Executive Director at the Franklin Housing Authority. "We could not have reached this milestone without the support of the community and the city and for that we are very grateful," Jackson said.
Located on the southwest side of the city, the Reddick Senior Residence is within walking distance of historic downtown Franklin and its blend of attractive shopping and services and offers easy access to the Williamson County library. The three-story elevator building featuring both one and two bedroom apartments, also offers ample community space on the first floor where residents can gather for activities and programs. The community celebrated its Grand Opening 100 percent occupied.
The 49-unit development includes many "green features," that will reduce its operating expenditures over the long-term, including Energy Star equivalent appliances and lighting, low-flow toilets and faucets, and environmentally friendly flooring and paints. Native plants that are drought-resistant are the focus of new landscaping.
"Reddick Senior Residence is an incredible step in meeting the need for affordable housing in our community," said City of Franklin Mayor Ken Moore. "I commend the Franklin Housing Authority on their efforts in redeveloping public housing in Franklin and their ability to bring this and future affordable housing options to reality."
Reddick Senior Residence represents the first public-private development partnership for the Franklin Housing Authority. Through a competitive process, FHA chose one of the nation's largest and most experienced affordable housing development companies—The Michaels Development Company—as its master planner and development partner for this and future phases of redevelopment. Michaels' sister company, Interstate Realty Management, is the community's property manager and will ensure that the property remains a long-term asset to the community.
"This beautiful building is a great example of the positive things that happen when public and private entities work together," said Williamson County Mayor Rogers Anderson. "This is a wonderful first step in FHA's comprehensive plan, and I look forward to seeing FHA's continued progress in creating quality, affordable housing for our community," Anderson said.
FHA and Michaels are currently working on getting financing in place for the next phase, which includes affordable multifamily housing.
"We are very proud to be a partner in FHA's comprehensive effort to improve the lives of its residents and look forward to contributing to the success of this community for years to come," said Ava Goldman, President of The Michaels Development Company. Goldman noted that the unwavering support of the city, Williamson County, and state elected officials, throughout the process has been critical to the development's success.
Financing for the $8.5 million development came from $1 million in Housing Trust Funds from the Tennessee Housing Development Authority as well as a $500,000 in funding from the Housing Authority. The development also benefitted from more than $6.6 million in private equity raised through the sale of federal Low Income Housing Tax Credits and syndicated by Prestige Affordable Housing Equity Partners, LLC. SunTrust Bank played a vital role as both a construction lender and equity investor.
About FHA
For more than 55 years, the Franklin Housing Authority has provided affordable, safe housing for low and moderate-income families in Franklin, Tenn. FHA operates 253 public housing units serving nearly 600 residents. Funded through rental income and subsidies from the Department of Housing & Urban Development, FHA also supports partnerships with programs that foster economic self-sufficiency for residents.
About The Michaels Organization:
Michaels Development Company and Interstate Realty Management are part of The Michaels Organization, a family of eight integrated but independent companies dedicated to excellence in affordable, mixed-income, military and student housing. Serving more than 100,000 residents in 360 communities across 34 states, the District of Columbia, and the U.S. Virgin Islands and with a development portfolio valued in excess of $3 billion, The Michaels Organization is a national leader in the residential real estate industry, with full service capabilities in development, property and asset management, construction, mortgage finance, and tax credit syndication. Visit http://www.TheMichaelsOrg.com for more information.