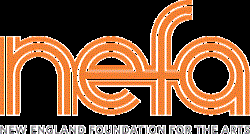 We have seen the effect that these highly collaborative residencies have on both the tourability and quality of the finished work.
Boston, MA (PRWEB) November 16, 2013
The New England Foundation for the Arts (NEFA) has awarded $522,000 through the National Dance Project (NDP) funds to support production residencies and touring of contemporary dance companies in 2014-15. NEFA's National Dance Project fuels the creation of new dance works and brings the work of the most compelling dance artists of our time to audiences across the nation.
Eight U.S.-based contemporary dance companies were awarded grants ranging from $18,000 to $22,000 each for late-stage production residencies through which artists, in collaboration with an institutional partner, have access to technical facilities and staff and gain significant artistic, directorial, and/or dramaturgical input. These residencies augment selected projects supported with NDP Production Grants and are aimed at helping new works become fully realized and ready for touring. Since the inception of Production Residency for Dance (PRD) grants in 2010, 29 projects have received this additional boost in support, thanks to funding from The Andrew W. Mellon Foundation.
"These residencies come at a crucial time in the creation of a new work when specific technical resources are needed to prepare for touring," said NDP program manager Sara C. Nash. "Through an evaluation of the PRD pilot program, we have seen the effect that these highly collaborative residencies have on both the tourability and quality of the finished work, as well as on building long-term relationships between artists and residency partners."
2013 Production Residency in Dance Artists & Residency Partners:
Carmen de Lavallade (NY) with Baryshnikov Arts Center (NY)
Kyle Abraham/Abraham.In.Motion (NY) with On the Boards (WA)
Liz Lerman (MD) with Peak Performances, Montclair State University (NJ)
Lucky Plush Productions (IL) with Flynn Center for the Performing Arts (VT)
Michelle Ellsworth (CO) with On the Boards (WA)
Pat Graney Company (WA) with On the Boards (WA)
Sarah Michelson (NY) with Walker Art Center (MN)
Soledad Barrio & Noche Flamenca (NY) with Scottsdale Center for the Performing Arts (AZ)
In addition to the Production Residency grants, 10 additional dance companies have received NDP Touring Awards of up to $35,000 each to support their U.S. tours in 2014-15. Projects were selected from a highly competitive pool of U.S. and international applicants. These Touring Awards complement 23 other projects available for touring support in the 2014-15 season announced in summer 2013. A publication of all projects with NDP touring support will available to download in mid-December here: http://www.nefa.org/grants_services/national_dance_project. Organizations interested in presenting any of these artists should contact the tour coordinators listed prior to March 3, 2014, in order to be considered for funding through NDP Presentation Grants.
2013 Touring Award Recipients & Projects:
Compagnie Marie Chouinard (Canada) for Gymnopédies
Dorrance Dance (NY) for The Blues Project
Emily Johnson/Catalyst (MN) for SHORE
H.T. Chen & Dancers (NY) for Sunshine Mountain
Panaibra Gabriel Canda (Mozambique) and Faustin Linyekula (Democratic Republic of the Congo) for Look Back, Dance Forward: TALES OF HOME: Congo/Mozambique
Rosas (Belgium) for Rosas Danst Rosas
Shantala Shivalingappa (France) for AKASHA
Tahni Holt (OR) for DUET LOVE
Urban Bush Women (NY) for Walking with 'Trane: Chapter 2
zoe | juniper (WA) for Begin
About NDP
NEFA launched the National Dance Project in 1996 to encourage the creation of new work in dance and the sharing of that work with audiences in communities throughout the United States. Since then, the program has distributed more than $24.3 million in grants and remains one of the few sources for dance funding in the country. NDP is supported by lead funding from the Doris Duke Charitable Foundation, with additional funding from The Andrew W. Mellon Foundation, the Community Connections Fund of the MetLife Foundation, and the National Endowment for the Arts. Call 617.951.0010 x521 for more information.
About NEFA
NEFA builds connections among artists, arts organizations, and funders, powering the arts to energize communities in New England, the nation, and the world. NEFA is a 501(c)(3) that operates in partnership with the National Endowment for the Arts, the New England state arts agencies, and with additional funding from corporations, foundations, and individuals.
NEFA currently administers grantmaking programs of regional, national, and international scope that support the performing arts, public art, and Native American artists. NEFA also leads projects and initiatives that range from the analysis of the impact of the creative economy to the creation of online tools which link and advance the cultural community. For more information on NEFA's grant programs and services, please visit NEFA's website or call 617.951.0010.
###