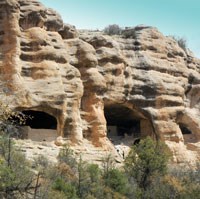 "On this trip, Steve Lekson's provocative theories on Southwestern archaeology should bring up many topics for discussion," Clay Patton, Director of Cultural Explorations.
Cortez, CO (PRWEB) November 16, 2013
The Crow Canyon Archaeological Center announced today an archaeology and culture travel opportunity that offers a glimpse into the fascinating culture known as Mimbres.
The exploration, Classic Mimbres, focuses on the distinctive culture that developed more than 700 years ago in remote southwestern New Mexico. The Mimbres Classic period (A.D. 1000-1130) is associated with a dynamic history of cultural development, with notable achievements in architecture and pottery.
Renowned scholar Dr. Steven Lekson will lead the seminar with Zuni tribal member Octavius Seowtewa.
Dr. Lekson is a professor of anthropology and curator of archaeology at the University of Colorado. His work at archaeological sites throughout the Southwest convinced him that ancient American Indian societies were more complex, connected, and cosmopolitan than the average textbook leads us to believe. His provocative theories of Southwestern archaeology include connections between the ancient Mimbres culture and the rise of Casas Grandes in northern Chihuahua, Mexico, in the 14th century.
Seowtewa is a cultural advisor at Zuni who plays a crucial role in Zuni site protection and preservation projects. He will create opportunities for program participants to bring their own experience into discussions of identity and place.
The trip begins and ends in Tucson and travels through southwestern New Mexico; the itinerary includes explorations of archaeological sites in the Mimbres and Gila valleys, tours of museum collections in Silver City and Deming, and many chances to discuss current archaeological research. The trip runs November 1–7, 2014.
For more information or to sign up for this seminar, e-mail travel(at)crowcanyon(dot)org; call 800.422.8975, ext. 136; or register online.
About the Crow Canyon Archaeological Center
The not-for-profit Crow Canyon Archaeological Center, located near Cortez, Colo., conducts long-term, multidisciplinary research into the ancestral Pueblo Indians of the southwestern United States and provides experiential education programs for adults, teens, and children. For nearly 30 years, Crow Canyon has also offered domestic and international culture and archaeology tours.