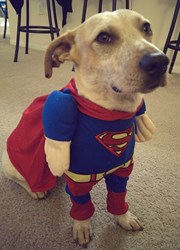 Congratulations to the winners of the PetFirst Halloween Costume Contest.
Jeffersonville, IN (PRWEB) November 15, 2013
The votes are in and the winners have been chosen in the PetFirst Halloween Costume Contest for Pets. Congratulations to the winners:
1st place: Krystle Acayan of California and her dog Amadeus dressed as the Man of Steel
2nd place: Jill Kathan of Michigan and her cat Alex dressed as a Penguin
3rd place: Bonnie and Beth Abelew of New York and their dog Phoenix dressed as a Master Magician
The winners received cash prizes. More than 50 pet parents entered the online contest conducted through the PetFirst Facebook page.
PetFirst is a pet health insurance provider offering affordable plans for dogs and cats of any age or breed. Policies are customizable to meet the needs of a pet, as well as a pet parent's budget. For more information on obtaining a free quote on pet insurance, visit http://www.petfirst.com.
About PetFirst
PetFirst is the fastest growing pet insurer in North America offering easy-to-understand lifelong coverage for dogs and cats. PetFirst's comprehensive coverage is unique in the industry providing simplified policies with coverage for hereditary, chronic and breed-specific conditions with no per diagnosis limits. PetFirst offers pet insurance in all 50 states and the District of Columbia through animal welfare agencies, retailers, employers as well as other partners. PetFirst polices are underwritten by American Alternative Insurance Corporation (Munich Re) which is rated by A.M. Best as A+. Additional services are underwritten by Lloyd's. For more information about PetFirst pet insurance, call 877-894-7387.