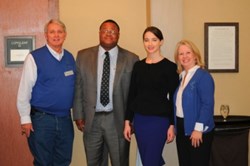 We are thrilled to announce that Hometown Health is partnered with ONC and USDA RD to bring this rural health IT funding initiative to Georgia.
Columbus, Georgia (PRWEB) November 15, 2013
On Thursday, November 14th, the HomeTown Health Rural Hospital Conference, being held at Callaway Gardens, was the venue where Leila Samy, with the Office of the National Coordinator for Health IT (ONC) along with US Department of Agriculture (USDA) Rural Development (RD) Director and Presidential appointee, Quinton Robinson announced a new collaboration with ONC and USDA to streamline Federal programs serving rural America to more than 200 rural hospital executives. The goal is to help rural hospitals leverage the full suite of complementary HHS and USDA RD programs to adopt and use health IT, optimize health care delivery and support rural economic development. ONC and RD piloted this funding initiative in fiscal year 2013 and successfully generated over $38 Million in funding to CAHs and rural hospitals across 4 states.
Leila Samy, the Rural Health IT Coordinator for the ONC stated, "We are thrilled to announce that Hometown Health is partnered with ONC and USDA RD to bring this rural health IT funding initiative to Georgia. We look forward to rolling up our sleeves with Georgia's CAH and rural hospital leadership at the HomeTown Health Fall Conference at Callaway Gardens on Nov 13-15."
This funding initiative provides access to capital for HIT related expenses and streamlines the USDA application process for low cost loans and grants for eligible hospitals. This is the first step in the strategic development of the Rural Health IT Collaborative of the Southeast, a network of rural hospitals and healthcare providers in the Southeast. Critical access and rural hospitals needing assistance with meeting Meaningful Use Stage 1 are the first priority, followed by those who require significant upgrades in software and infrastructure to maintain Stage 1 and/or meet Stage 2 including switching to new EHR vendors and adding costly HIT components required for Stage 2, like system interfaces. PACS imaging and data storage are also eligible types of projects. Hospital-based Rural Health Clinics may also qualify. Interested Georgia hospitals should contact Mark Renfro at marenfro@windstream.net about being part of this exciting opportunity or if you have questions about the project.
About HomeTown Health, LLC
HomeTown Health, LLC is an organization of 70 rural and small hospitals, located throughout the southeast, which collectively pursue ways to help rural hospitals survive in this environment of tremendous budget cuts from the state and federal level. The mission of HomeTown Health is to ensure that rural healthcare is preserved at the local community level wherever possible and that a continuum of care is available to the rural populations. What began as a handful of community hospitals 14 years ago has now grown into an organization of over 70 hospital members and 60 business partners. For more information, visit http://www.hometownhealthonline.com.