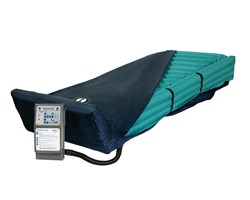 Sensing technologies like iSense Processing and Auto Comfort are typically only found on systems costing several times the pricetag of SelectAir MAX - and ours comes with an unbeatable 5 year warranty. - Gregg Garland, President/CEO of MOXI Enterprises
St. Louis, MO (PRWEB) December 12, 2013
Now, more than ever, an extra measure of safety is needed when dealing with a very risky condition, such as a patient with a pressure ulcer. Taking proper safety measures can make the difference between a quick discharge or a lengthy and expensive healing process. Sometimes, pressure ulcers can even result in death.
iSense Processing, by MOXI Enterprises, is a built-in sensor, that now comes standard with every SelectAir(R), SelectAir(R) MAX, FUSION 2K(TM) and BariSelect(R) advanced therapeutic support surface. The sensor factors in the patient's weight, distribution, and displacement to form an algorithm that monitors the immersion and envelopment into the fluid like environment. Maximizing and maintaining immersion is a key attribute to true low air loss therapy. This allows for an increase of blood-flow into the damaged tissue to accelerate healing.
Combining iSense Processing with Auto Comfort, MOXI's one touch setup feature, offers an additional level of safety. Auto Comfort removes the need to weigh the patient in order to set the most beneficial immersion level. Once the Auto Comfort has made the adjustment, the iSense Processing takes over and the stage is set for the healing to begin.
"Sensing technologies like iSense Processing and Auto Comfort are typically only found on systems costing several times the price tag of a SelectAir MAX – and ours comes with an unbeatable 5 year warranty," says Gregg Garland, President/CEO of MOXI Enterprises.
MOXI Enterprises is a manufacturer of therapeutic support surfaces and is 100% made in the USA, in St. Louis, MO.