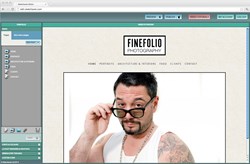 Getting into website design is a natural extension of our business.
London, England (PRWEB UK) 15 November 2013
Sketchanet is proud to support the printing industry with a powerful new website design platform, http://www.sketchanet-pro.com, that makes it easy for designers within print shops to design and build websites, and to do this for an unlimited number of clients.
The printing business has been under pressure over the last decade to find new ways to make money. Things began to decline with the advent of 'print on demand' where printing orders evolved from large runs in the hundreds of thousands to many smaller runs of hundreds. As Nigel Southey of print service & office supplies business, Colyer London, explained, "the number of print jobs remained the same, but the size and value of those print jobs fell dramatically."
What followed was an exciting period of convergence with printers moving into printing across multiple formats, graphic design, branding, designing emails and even providing marketing consultancy. Today, printing businesses around the globe are looking to provide website design for their clients. And they are turning to Sketchanet Pro for a website platform that they can use to deliver websites to their clients.
According to Ben Gregory of Digiprint Group, "Our customers turn to us for more services now - most importantly websites. Customers store files such as copy and images with us. We can then use these across a range of media cost effectively, with the benefit to the customer of one invoice, a smaller supply chain, and top quality delivery. Getting into website design is a natural extension of our business."
"Your next website may be something you get from a designer on the high street, not an expensive agency," says Piers Milburn, Sketchanet Founder. He continues, "We have entered into agreements with several print and photocopy shops in the UK to use our platform. There is a genuine appetite among printers to build websites using a platform with an interface similar to the design for print software they are accustomed to, using the assets they have on hand from their customers, and to make recurring monthly income, which wasn't possible with traditional print jobs."
You can create as many websites as you like on Sketchanet Pro for free. When a site goes live at a custom domain, there is a low monthly charge of £15 (+VAT) for the first subscription, £10 for the second subscription and £7.50 for all subscriptions after that - a saving of 50% on the standard subscription rate.
A Sketchanet Pro subscription includes hosting and new feature upgrades. And there are no extra charges for adding data, adding pages or customer support. According to Drystan Howell, Sketchanet Co-founder, "Incremental charges are one of the biggest issues that Designers have with other website platforms. So we don't do it."
Printers, designers and developers interested in using Sketchanet's more advanced website design tools for their clients can find out more by visiting http://www.sketchanet-pro.com.
Anyone interested in building their own website can find out more about Sketchanet's website design platform by visiting http://www.sketchanet.com.
About Sketchanet
Sketchanet is an online website design and management platform founded in January 2013 by Piers Milburn (Designer) and Drystan Howell (Developer).
Sketchanet Ltd is a privately owned company based in London.
Media Contact:
Piers Milburn, Creative Director
+44 20 3397 7183
piers(at)sketchanet(dot)com