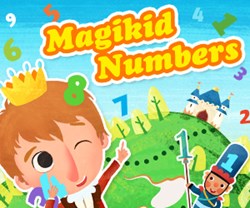 Story-based game aims to gives kids the best start in math.
San Francisco, California (PRWEB) November 18, 2013
Magikid is adding another member to its family of educational iPhone®, iPad®, and iPod touch® apps. Magikid Numbers is a new way to teach numbers to young learners, using the best in education research. It is now available on the App Store.
"Lots of people think they're bad at math," says Magikid CEO Hannah Shi. "That is an attitude formed in childhood, so we tried to present numbers in a non-threatening way. We ultimately want our users to have a solid foundation in numbers that will create a life-long appreciation for math."
Magikid Numbers is a story-based game for kids ages 3-5. In the app, the Kingdom of Numbers has been taken over by an evil wizard who has imprisoned the beloved Number King. Users join the heroes, the young prince and his best friend, the wizard, on their first day of school. Kids embark on the quest through the chapters, collect the hidden numbers and pass interactive challenges that ultimately bring them to a game reinforcing new mathematical concepts. All this leads them one step closer to restoring peace in the Kingdom of Numbers.
Learning to count from one to ten is an important step in every child's life, it's the first step on the long, and sometimes scary, journey of mathematics. Magikid Numbers doesn't just rely on beautiful artwork, exciting music and engaging stories, but on thorough research in early mathematical education.
Research shows that children are born with an innate mathematical ability, and that there is a right way and a wrong way to teach fundamental math concepts. Magikid has taken this research and packed it into their stories and games allowing kids to learn in the most effective way. Topics include cardinality, sequencing, and conservation of quantity. Many adults are unfamiliar with these terms and take these basic math skills for granted, but for kids they can be new and confusing. Magikid Numbers aims to demystify this process and portray numbers and math in a simple and clear way.
Currently, Magikid Numbers features 10 chapters with numbers 1 through 10. The team at Magikid is already working on the next installment where our heroes will continue their adventures all the way to number 20.
This is the first major English language release for Magikid, a Chinese developer with offices in Shanghai and San Francisco. "Our apps have over 3 million users in China and we wanted to see if we could take the skills we learned in that market and bring them to English speaking countries," says Shi. "There have been some hurdles but everyone on the team is really proud of Magikid Numbers." The Magikid team is made up of members from China, Canada, Ireland, and the United States.
Previous Magikid apps have been featured on the home page of the App Store and Magikid consistently ranks in the Top Paid Apps in the Education category. To learn more about the app visit http://numbers.magikid.com. Check out the rest of the Magikid family at magikid.com. See Magikid Numbers in action here.