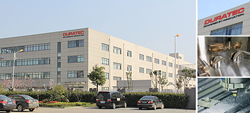 (PRWEB) November 17, 2013
Today, DuratecPlastics.com, the popular China injection molding factory, has proudly announced a special offer on its safety plastic parts. According to the CEO of the company, its high quality safety plastic parts are now offered at discounted rates, up to 32% off. The special offer is valid until December 25, 2013.
"We are excited to provide discounts on our fresh products. This time, we want to benefit our customers and expand the international market. Each of our safety plastic parts features a nice look and exquisite craftsmanship. Our principle objective is to facilitate all our new and old customers. I hope you can enjoy this promotion. Those who are in need of safety plastic parts can visit our website now," says the CEO.
The company is offering a huge collection of plastic products, like injection plastics, plastic gears, safety plastic parts and more. Its products are popular in the global market.
The positive reviews on the company's website show why it is outstanding among all the options these days. DuratecPlastics.com always tries hard to make sure that the expectations of its worldwide clients are always surpassed. When it comes to high quality, affordability and convenience, the company is a leading brand to count on.
About DuratecPlastics.com
DuratecPlastics.com is the website owned by Duratec Industries Ltd. That specializes in plastic injection molding and plastic product assembly. The business is located in Suzhou, which is a beautiful tourist city in China and is considered as beautiful as the paradise. The company owns a modern manufacturing and warehousing facility as large as over 12,000 square meters.
For more information, please visit http://www.duratecplastics.com/.