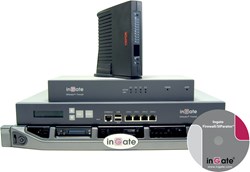 This year Ingate has seen record growth in sales of the Ingate SIParator® E-SBC for SIP trunking applications.
Stockholm (PRWEB) November 18, 2013
Demand for SIP trunking solutions is at an all-time high, with large-scale enterprise deployments on the rise for Ingate® Systems, a developer of secure Enterprise Session Border Controllers (E-SBCs) and firewalls that allow the best of SIP- and WebRTC-based quality multimedia real-time communication and SIP trunking globally beyond the protected enterprise network.
"SIP trunking is still a hot market for Ingate, especially in North America," said Steven Johnson, President, Ingate Systems. "This year we've seen record growth in sales of the Ingate SIParator® E-SBC for SIP trunking applications."
Larger deployments with higher numbers of sessions are on the rise, with Ingate's SIParator 51, 56 and 66 handling between 50-1,000 concurrent sessions or calls, addressing the needs of medium-to-large-sized business looking to adopt secure SIP-based Voice-over-IP (VoIP) over SIP trunks.
"Existing customers are realizing the benefits of SIP trunking and have come back to us with more orders, and for larger E-SBCs," said Johnson. Recent installations with cable companies, broadcast networks and tier 1 carriers have driven sales of Ingate's midrange and large-capacity E-SBCs.
Ingate, which has been developing SIP-based security products since the International Engineering Task Force (IETF) first introduced the protocol, is now working on WebRTC solutions to enable WebRTC and maximize the quality of WebRTC video communications.
Ingate's Q-TURN technology gives WebRTC, or any real-time communication using the ICE standard for NAT/firewall traversal, end-to-end connectivity and priority over data traffic. That allows the telepresence capabilities in PCs, smartphones and tablets to be used with WebRTC person-to-person communication.
The Ingate WebRTC & SIP PBX Companion brings all the WebRTC features to the enterprise SIP PBX and UC solution. The browser becomes the soft client both locally and remotely and click-to- dial buttons into the PBX are easily added to the company web site.
For more information visit Ingate at the WebRTC Conference & Expo, November 19-21 at the Santa Clara Convention Center in Santa Clara, CA.
About Ingate® Systems
Ingate® Systems develops firewall technology to enable global SIP- and WebRTC-based person-to-person communication to provide the best access for telephony, global real-time and unified person-to-person communication for everyone. With a history in security, Ingate offers enterprises, service providers and carriers elegant solutions for SIP trunking and trusted real-time communications possible beyond the LAN. Ingate products are used by retail companies, financial institutions, industrial firms, government agencies and small-to-large enterprises throughout Europe, Asia and North America. For more information visit http://www.ingate.com.