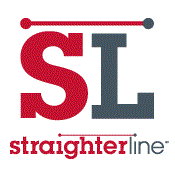 "With this partnership, StraighterLine and Brandman create a low-cost transfer pathway for the hundreds of thousands of California students being turned away by the state's public colleges," says Burck Smith, CEO and founder of StraighterLine.
Baltimore, MD (PRWEB) November 15, 2013
StraighterLine ([http://www.straighterline.com) announced today that Brandman University (http://www.brandman.edu) has joined their rapidly expanding network of partner colleges, which includes America's best online colleges and universities. StraighterLine students can now apply academic credit to many of Brandman's degree programs.
Brandman University prepares graduates to succeed in a world of accelerated change by focusing on an innovative curriculum designed for working professionals. Transferrable course work is available for all StraighterLine courses that have been evaluated by ACE. Brandman offers academic and professional development programs in the areas of education, business, arts and sciences, nursing and health professions. U.S. News & World Report rated Brandman University as a Best Online Program in 2013 for their Bachelor's, Grad Education, and Grad Business programs. Brandman has 26 campuses throughout California and Washington, and a virtual campus online.
Brandman University and StraighterLine make excellent partners because they are both focused on the unique educational needs of adult students. Brandman's courses are taught in a blended format that combines on campus instruction with collaborative online learning. This flexibility allows students to complete their degree on their own schedule with many of Brandman's courses being offered fully online. Together, Brandman and StraighterLine offer working adults the opportunity to get a quality education online, conveniently, at a substantially lower cost than most traditional degree programs. Students can take general education courses through StraighterLine and save on the cost of their college degree. With StraighterLine's self-paced online courses, students can move through the material as quickly or slowly as they like.
StraighterLine helps all adult learners, regardless of major, educational experience, or economic status, get a quality education online, flexibly, conveniently and affordably. This year, over 20,000 students will choose from more than 50 courses and more than 100 ways to earn college credit in business, technology, sciences, humanities, English, math, and language. StraighterLine's customized degree plans show students how they can earn their dream degrees in preparation for careers in today's fastest growing, most desirable fields, including business, education/teaching, healthcare, nursing, psychology, criminal justice, and engineering.
Adult learners interested in finding jobs and advancing their careers are invited to attend Brandman's Virtual Career Fair on 11/18/2013, 8 A.M.-2 P.M. PST. Register here: https://www.surveymonkey.com/s/6R5MBDQ.
"The adult learner faces many obstacles when trying to balance life and obtain a degree. This partnership with StraighterLine gives those students an affordable option and helps to provide a smooth transition into a 4-year degree program," said Nancy Salzman, dean of the School of Extended Education at Brandman University.
"With this partnership, StraighterLine and Brandman create a low-cost transfer pathway for the hundreds of thousands of California students being turned away by the state's public colleges," says Burck Smith, CEO and founder of StraighterLine.
About Brandman University:
Brandman University is a private, non-profit institution accredited by the Western Association of Schools and Colleges (WASC). Established in 1958 and a part of the Chapman University System, Brandman blends a legacy of academic excellence with progressive, innovative curriculum and strong support services designed for working professionals. The university serves more than 12,000 students annually in over 50 undergraduate, graduate, credential, and certificate programs in arts and sciences, business, education and health, both offered online and through 26 campuses in California and Washington.
About StraighterLine:
StraighterLine's mission is to help students reach their full potential by putting them on a straighter line towards the degree of their choice, the career of their dreams, and the life they've always wanted – on their budget and on their schedule. StraighterLine has been recognized as an innovator in higher education by major news organizations and the U.S. Chamber of Commerce. It has forged partnerships with more than 50 leading accredited online colleges and universities, where students ultimately earn their degrees after taking StraighterLine courses, lowering their cost of college and reducing their student debt.
StraighterLine's courses have been evaluated and recommended by the American Council on Education's College Credit Recommendation Service (ACE CREDIT). More than 2,000 colleges and universities consider ACE CREDIT recommendations in determining the applicability to their course and degree programs. In addition to StraighterLine's partner schools, more than 400 other schools are reported to have accepted StraighterLine coursework for transfer credit.
For information, visit http://www.straighterline.com or call 1-877-str8erline (1-877-787-8375).
###