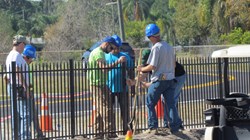 "...I'd encourage those interested to register soon." - Mart Prost, Director, NAFCA Fence Training School
East Troy, WI (PRWEB) November 19, 2013
In an effort to build integrity and sound business practices in the fence industry, NAFCA, the North American Fence Contractors Association has held Fence Training Schools every year since its founding. 2014 marks the return of the School to Sebring Florida, where students last year installed an estimated $30,000 worth of fence donated by vendors throughout the industry.
The City of Sebring has welcomed the organization back for a three-day school in February of next year. Currently the plans are to extend several fence lines begun in February of 2013, and to replace existing fences in several areas of the Sebring Municipal Golf Course and connected recreation facilities.
Fence companies from all over Canada and the U.S. send students to learn from experienced professionals in a hands on setting many of the industry's "best practices" in installation, safety, and tool selection. The School is open to members of NAFCA and non-members alike, with the goal of improving the fence industry for all. Space is limited for this event, "We have room for fewer than thirty students this year, I'd encourage those interested to register soon.", School Director Mart Prost said.
NAFCA exists to bring together fence contractors and vendors for their mutual benefit and the integrity of the industry. Education is a key component of their strategy. The organization has provided registration information at their website, http://www.4nafca.com, and the office can be reached at (770) 757-9094.