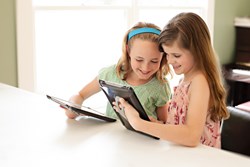 Seattle, WA (PRWEB) November 19, 2013
With the growing number of 1:1 technology initiatives in schools, innovative charging carts such as Bretford, Lock N Charge, Anthro, and Ergotron are becoming staples in schools across the country as the go to method for charging and storing education technology. For your technology roll out, we realize that you need iPad cases that work smoothly with charging carts, with a slim design and charging port cut outs for easy access. Brenthaven is pleased to announce a solution, providing iPad cases for education that offer the highest degree of protection and shock absorption and that are designed to work seamlessly in conjunction with Bretford and other charging carts, helping make your 1:1 deployment process simple.
Brenthaven is here to make your 1:1 technology roll out as effortless as possible, providing two new unique iPad case options to fit your specific needs and to keep your investment protected. The BX2 Protector for iPad is the most protective iPad Case in Brenthaven's collection for schools and students. The iPad case features a hard polycarbonate exterior with foam protection in all four corners as well as the main surface. A supple silicone liner wraps snugly around the iPad for additional security and padding. The slim design of the BX2 Protector fits easily into Charging Cart slots and the custom port cutouts allow for easy attachment to the charging stations.
The Trek Hardshell Folio fits iPad 2, 3, and Retina and is a slightly less heavy duty option. While the BX2 Protector is perfect for the rough and tumble elementary school daily life, the Trek Hardshell Folio offers additional functionality, ideal for middle and high school students. The Trek Hardshell Folio for iPad is available in multiple color ways and features a clever magnetic on/off feature. The front cover of the folio articulates to form a horizontal viewing or typing stand. The Trek Hardshell Folio's slim design makes it ideal for use with Bretford and other broadly used Charging Carts such as Lock N Charge, Anthro, and Ertogtron.
Price and Availability
The BX2 Protector iPad Case and Trek Folio for iPad are available through our website http://www.brenthaven.com/education, or you can contact us at education(at)brenthaven(dot)com for more information on high volume purchasing for your school's one to one deployment. There are custom color options available for orders of 500 units or greater.
About Brenthaven ®
Headquartered in Seattle, Washington, Brenthaven is the leader in the design and manufacture of premium protective cases for mobile technology. Visit http://www.brenthaven.com for more information or check us out on Twitter @brenthavennews and Facebook.com/brenthavennews for access to special deals on Brenthaven products. For Customer Service call (800) 803-7225 or email info(at)brenthaven(dot)com.