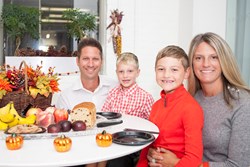 Holiday cooking is a tradition for many families and we just hope homeowners are cautious, especially if they have an older home and older oven.
Naples, Florida (PRWEB) November 15, 2013
Gulf Coast Educators Insurance located in Southwest Florida announces their 2013 Thanksgiving Cooking Disaster Prevention Guide to help homeowners and renters avoid home, property, and renter's insurance claims this holiday season.
With the holiday season upon us families and businesses have begun preparing for their annual festive get-togethers and events. Cooking elaborate meals and entertaining guests are just par for the course. Gulf Coast Educators Insurance encourages homeowners to use extra caution this holiday season as they prepare their holiday meals to help reduce the number of unnecessary home insurance claims.
"Holiday cooking is a tradition for many families and we just hope homeowners are cautious, especially if they have an older home and older oven. Unfortunately over the years we have had homeowners who have placed a homeowner's insurance claim due to oven fires and grease fires from stove top cooking. Some homeowners reported they forgot something was on the stove top because they were visiting with their holiday guests. It's really unfortunate but it does happen. We hope this holiday season homeowners will take caution in the kitchen" says Ron DeFreitas, owner/agent of Gulf Coast Educators Insurance.
The Florida insurance agents at Gulf Coast Educators Insurance encourage homeowners to keep the following safety tips in mind:
Holiday Cooking Safety Tips
In the Kitchen:

When individuals leave the kitchen for even a short period of time, while cooking, make sure to turn off the stove.
When baking, roasting, simmering or boiling food, check it frequently and remain in the house while cooking. Make sure to use a timer to remember when the item is done.
Make sure microwave ovens and other appliances are plugged directly into an outlet. Never use an extension cord because it can overload the circuit and cause a fire.
When using a barbecue grill:
Keep children and pets away from the grill area. Have a 3-foot "kid-free zone" around the grill.
Regularly remove grease or fat accumulation in trays below grill so it won't ignite from a hot grill.
Only use a grill outside. If used indoors, or in an enclosed space, barbecue grills pose both a fire hazard and a risk of carbon monoxide poisoning.
When using propane:
If there is a gas smell while cooking, immediately get away from the grill and call the fire department. Do not attempt to move the grill.
Never store propane cylinders in buildings or garages. If storing a gas grill inside during the winter, disconnect the cylinder and leave it outside.
What to do when there is a fire:
When in doubt, just get out. Remember to close the door to help contain the fire. Call 9-1-1 or the local emergency number after leaving the building.
If clothes catch fire, stop, drop and roll. Stop immediately, drop to the ground, and cover your face with your hands. Roll over and over or back and forth to put out the fire. Immediately cool the burn with cool water for 3 to 5 minutes and cover with a clean, dry cloth. Don't apply creams, ointments, sprays, or other home remedies.
Gulf Coast Educators Insurance offers Florida educators and non-educators a host of insurance products including home and property insurance, auto insurance and life insurance. They have three offices in Southwest Florida including Naples, Ft. Myers and Port Charlotte.
As 2014 approaches the insurance agents at Gulf Coast Educators Insurance encourage Florida residents to call them for an insurance policy review and assess what insurance discounts may apply. Consumers may call any of their three offices: Naples 239-591-0963, Port Charlotte 941-391-5423 or Fort Myers 239-997-0420 to schedule their appointment. For more information on property insurance consumers are encouraged to visit online at: http://www.propertyandhomeinsuranceflorida.com or send an email to ron(dot)defreitas(at)horacemann(dot)com.