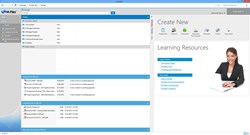 M-Files 10.0 enables users to organize and access information based on what it is rather than where it's stored, which makes ECM inherently easier to use and more precise,
Tampere, Finland (PRWEB UK) 21 November 2013
M-Files Corporation, the developer of M-Files cloud, on-premise and hybrid dynamic content management solutions that simplify ECM by managing information by "what" it is versus "where" it's stored, today announced the immediate availability of M-Files 10.0.
M-Files 10.0 features a new user interface (UI) that provides quick and intuitive access to content on PCs, tablets and smartphones. M-Files 10.0 also delivers enhanced quality assurance and compliance management capabilities for regulated businesses by enabling them to control and regulate document access, improve visibility and control revisions across multiple departments. M-Files 10.0 makes it easy for businesses to improve their quality management systems and meet certification requirements with document and process management capabilities that support strict quality and compliance needs. For a complete list of new features and capabilities in M-Files 10.0, click here.
The latest version of the M-Files enterprise content management (ECM) solution delivers an enhanced user experience that breaks down barriers to user adoption, a major stumbling block for traditional ECM solutions. The metadata-driven interface in M-Files 10.0 solves an intractable shortcoming of traditional folder-based ECM approaches that are limited to allowing a file to exist in only one location. In M-Files 10.0, unique information shows up dynamically, in context, wherever and whenever it is needed without duplication, thereby eliminating a host of traditional ECM and workflow issues.
The recently published report by Forrester Research, The Forrester Wave™: Enterprise Content Management, Q3 2013, highlights the importance of user-friendly ECM systems: "Organizations want better ways for their employees to derive value from content… ECM solutions have proven to be one of the most disruptive technologies, often requiring users to dramatically change the way they work … Empowering the user to configure the ECM interface is a high priority for a successful adoption, providing transparency to the way the user wants to work … M-Files offers an entirely fresh approach to ECM, with a metadata- and search-driven UI rather than the traditional folder and subfolder navigation scheme."
"Traditional ECM systems have a reputation for being complex and difficult to use, which stifles user adoption and ultimately results in unsatisfactory ROI," said Mika Javanainen, senior director of product management at M-Files Corporation. "M-Files 10.0 enables users to organize and access information based on what it is rather than where it's stored, which makes ECM inherently easier to use and more precise, since everyone knows 'what' they're working on, versus the process of guessing the folder it should be stored in. M-Files 10.0 moves ECM from a complex, technology-centric tool to a business solution that dynamically manages and processes information based on its business relevance, which allows those closest to the business need to intuitively organize and access the right information they need to get the job done faster and with higher quality."
"We're impressed with the usability enhancements in M-Files 10.0, particularly the ability to edit and add metadata with just a few clicks," said Tim Goetz, solutions architect at Marco, Inc., an industry-leading provider of voice, data, video and print solutions, a Solution Provider 500 company, and a member of the M-Files Partner Program.
"The new user interface introduced in M-Files 10.0 makes viewing and editing document metadata even easier than before," said Jeff Gist, Technical Specialist at Link Engineering, a multinational company that designs and manufactures precision test equipment and provides comprehensive testing services for the transportation industry.
"M-Files 10.0 puts business users at the center of information management by enabling non-IT users to organize and manage content based on the information that is most relevant to the organization," continued Javanainen.
Optimized Hybrid Cloud Deployment Capabilities in M-Files 10.0
In The Forrester Wave™: Enterprise Content Management, Q3 2013, the analyst firm noted "Wave newcomer M-Files provides one of the few true hybrid offerings … M-Files metadata design has enabled it to lead the way with cloud-based computing, providing complete functionality and transparency between on-premises and cloud-based implementations. M-Files provides the ability to replicate data across distributed repositories and deployment types based on metadata."
"M-Files 10.0 delivers the same user experience on-premise, in the cloud and in hybrid cloud environments. The ability to replicate only certain documentation to the cloud is an ideal approach for onboarding external users to the collaboration process. At the same time, most organizations prefer not to have all of their data stored in the cloud. This hybrid approach provides new opportunities to optimize storage costs and improve data security," stated Javanainen. "By leveraging a purely metadata-driven approach, M-Files 10.0 untethers information from the confines of applications, platforms and organizational silos to increase content transparency and deliver better and faster decisions via more secure processes."
Additional New Features and Capabilities in M-Files 10.0

The ability to deploy a closed environment where new configurations can be tested, and validated implementations can be seamlessly rolled out to production.
Enhanced integration with other business systems, including SharePoint and a variety of CRM and ERP solutions, such as Microsoft Dynamics and Salesforce.
A variety of improvements to the UI Extensibility Framework that enable comprehensive customization of the M-Files user interface, which enables partners and customers to build unique custom applications and targeted solutions with their own branding.
Social content features: M-Files 10.0 features a redesigned commenting feature and the ability to follow documents, customers, projects and other objects that enable users to receive automatic notifications of new and changed content.
About M-Files Corporation
M-Files dynamic content management solutions are revolutionizing the ECM market by transforming how businesses manage, secure and share information with a unique metadata-powered approach that organizes and processes content based on what it is, rather than where it resides. Thousands of businesses in over 100 countries use M-Files on-premise, in the cloud or in hybrid environments to improve productivity and quality, and to ensure compliance with industry regulations and standards, including companies such as SAS, Elekta and EADS. For more information, visit http://www.m-files.com.
M-Files is a registered trademark of M-Files Corporation. All other registered trademarks belong to their respective owners.