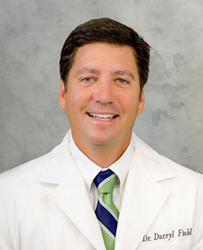 Jacksonville, FL (PRWEB) November 17, 2013
Throughout November, in recognition of Pancreatic Cancer Awareness Month, Dr. Darryl Field is raising awareness about another reason that patients with gum disease should have their condition treated immediately. Studies have found that people with periodontal disease have a higher risk of pancreatic cancer. However, treatments like laser gum surgery that remove periodontal disease can reduce this health risk.
The association between periodontal disease and pancreatic cancer is stronger than many victims of periodontal disease realize. The first study to find a strong link between the two found that, for men with severe periodontal disease, the likelihood of developing pancreatic cancer was 63 percent greater. Recent research confirmed the enhanced risk of pancreatic cancer, and other types of cancer, that is correlated with periodontal disease.
Since bacteria can enter the bloodstream through the mouth and move throughout the body when people have gum disease, the condition can have a negative impact on overall health. Chronic inflammation accompanied by a constant immune system response is one possible outcome of periodontal disease. Researchers have suggested that this may in turn make the development of cancer more likely, although a direct cause-and-effect relationship has not been proven yet. The topic is still being investigated, but Dr. Field believes that it is important for people with periodontal disease to understand the heightened pancreatic cancer risk that they face.
Dr. Field offers patients one of the most advanced gum surgery techniques available, the Laser Assisted New Attachment Procedure (LANAP), to eradicate periodontal disease. This laser gum surgery reduces trauma, healing time, and the risk of complications like infection. The laser that Dr. Field uses, the Periolase MVP-7, is not absorbed by teeth or gum tissue, so it can remove periodontal disease while leaving healthy tissue in place. This allows patients to enjoy better long-term health without experiencing discomfort, inconvenience, or health risks in the short term.
As Dr. Field is emphasizing this month, it is important for victims of periodontal disease to take the condition seriously and seek treatment immediately. Patients are invited to call Dr. Field' office for an appointment or visit his website for more information on periodontal disease symptoms and treatment options.
About the Doctor
Darryl A. Field, DDS, PA, is a periodontist offering personalized dental care to patients in Jacksonville, FL since 1997 Dr. Field received his Doctor of Dental Degree and his certificate in Periodontics from LSU School of Dentistry. He is part of one percent of dental professionals providing the first FDA cleared laser procedure for gum disease and periodontal treatment. To learn more about Dr. Field and his dental services visit his website at http://www.jaxdentalhealth.com and call 904-201-8293.