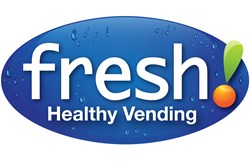 With our multi-tiered approach to expansion, it is our hope that these new partnerships will lead to an additional 400 machines on the ground by the end of 2014. 2013 was all about testing the model, 2014 will be proving it.
San Diego, CA (PRWEB) November 18, 2013
Fresh Healthy Vending International, Inc.(OTC: VEND), the nation's largest healthy vending machine company, is in the process of employing $700,000 that has been earmarked for its corporate operations division. The funds will be used to purchase equipment for newly secured locations in San Diego, route acquisitions and to fund partnership opportunities with the company's franchisees.
Fresh Healthy Vending International, Inc. launched the corporate division as a test-kitchen platform in 2011, on behalf of its franchisee network with a goal of finding the most profitable ways to increase the sales of its vending machines and create the best possible relationship with each location in which its machines were placed. Factors tested included: product selections, product pricing, consumer marketing, hardware options and product sampling results.
Nick Yates, vice president of corporate operations for Fresh Healthy Vending, heads the corporate owned operations division. As a founder of the healthy vending concept in Australia during 2002, Yates has been innovating healthy vending platforms, products and technologies to develop the company's franchise business that consists of location procurement, product development, marketing tactics and multiple support structures, leading to further expansion of healthy vending operations for Fresh Healthy Vending franchisees.
With two years of research and acquired data, the company is now focused on building the model through local operations, franchisee partnerships and established route acquisitions.
Locally in San Diego, Fresh Healthy Vending secures locations that are operated by its corporate division. The company has a warehouse and a full time route manager dedicated to building the corporate owned operation. Fresh Healthy Vending has placed machines throughout the San Diego area in military bases, trade schools, white-collar businesses and YMCAs. In addition to operating its own machines locally, Fresh Healthy Vending seeks to establish long-term service partnerships with already established franchisees.
"The extension to our local operating model essentially works like this," said Yates. "We identify franchisees who wish to grow their businesses but may not have the resources to do so. We offer to provide these franchisees with machines at no up-front cost, secure the locations for the machines and are able to provide the franchisees with access to order products from our corporate account. In return, the franchisees will operate the machines using proprietary operating techniques and methods already implemented on their established franchised machines. The franchisees will be entitled to a percentage of the machines' revenue at the end of each month. The more revenue the machine achieves, the more the franchise partner is entitled. This model will allow us flexibility to operate in almost any domestic or foreign market available to us. Most importantly, it allows our franchisees to grow with us."
An agreement to operate 60 machines within Tampa, Fla. has been recently executed with an existing franchisee and Fresh Healthy Vending is now in the process of procuring locations. The company has also recently acquired an already established healthy vending route in Las Vegas, Nev. for 10 machines- eight of which are located in middle schools and high schools. In addition, the company has also partnered, via a joint venture agreement, with another operator for four machines within Hill Air Force Base in Utah and another six locations throughout Salt Lake City area are pending.
"Our goal is to be operating a minimum of 50 units both locally and through these partnerships by the year's end," said Yates. "With our multi-tiered approach to expansion, it is our hope that these new partnerships will lead to an additional 400 machines on the ground by the end of 2014. 2013 was all about testing the model, 2014 will be proving it."
About Fresh Healthy Vending
Fresh Healthy Vending, based in San Diego, Calif., is an operator and franchisor of healthy vending-related products and services. The company has appointed more than 200 franchisees throughout the United States, Canada, Puerto Rico and the Bahamas.
Convenience meets health with Fresh Healthy Vending and its pioneered concept of vending machines stocked with tried-and-tested fresh, healthy snack options. The company offers three different types of machines: The Healthy Vending Combo snack and drink machine, Healthy Vending Café that brews gourmet hot beverages in less than 40 seconds and the brand new Healthy Vending Touch-the only 46" 3D interactive touch screen vending machine.
Fresh Healthy Vending International Inc.'s stock is traded through the OTC Markets, Symbol: VEND.
For more information on Fresh Healthy Vending, the Franchise Program, or to receive a free healthy vending machine in your school or business, visit http://www.freshvending.com or call toll free 888-902-7558.
Forward-Looking Statement Notice
This press release includes "forward-looking statements" as defined by the U.S. Securities and Exchange Commission (SEC). All statements, other than statements of historical fact, included in the press release that address activities, events or developments that the Company believes or anticipates will or may occur in the future are forward-looking statements. These statements are based on certain assumptions made based on experience, expected future developments and other factors the Company believes are appropriate under the circumstances. Such statements are subject to a number of assumptions, risks and uncertainties, many of which are beyond the control of the Company and may not materialize. Investors are cautioned that any such statements are not guarantees of future performance. The contents of this release should be considered in conjunction with the warnings, risk factors and cautionary statements contained in the Company's recent filings with the SEC. Furthermore, the Company does not intend, and is not obligated, to update publicly any forward-looking statements, except as required by law.