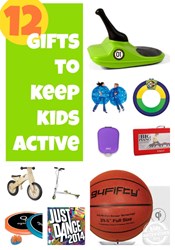 Get kids moving with fun gifts this holiday season.
Dallas, Texas (PRWEB) December 09, 2013
Kids overall have better attitudes when they get their wiggles out, daily. A laundry list of gifts that keep kids active and cute homemade ornaments have been released on Kids Activities Blog. Seasoned Moms are sharing their best tips to have a great holiday this season.
In the age where most kids' entertainment is stationary, gifts that make kids moving can make a difference in their daily life. Every Mom knows that kids who got their daily wiggles out, behave better and usually have better attitudes.
Consider giving a classic balance bike to the beginning cyclist. This bike will be a hit in the neighborhood. A Razor Power Wing will make a great neighborhood vehicle for older kids. In fact, any Razor will make a popular scooter gift this season. Many variations have been released for many age groups.
The just dance Nintendo 2014 combines a great family workout with a lot of giggles. Do not be amazed if the kids are better than the adults in this fun game. The Zipfy Freestyle Mini Luge Snow Sled is a perfect gift for kids living in cold climates. It is light to carry and delivers a powerful downhill experience.
The Beamo 30 inches is a giant soft disc. It is great because any skill level and any age of kids can participate in this fun disc game of throw and catch. If the family budget for kids is high this year, a Smart Basketball set will be a great family present. The set comes with a ball including sensors that provide feedback with an interactive app pack.
Cute homemade ornaments are perfect for wintertime family arts and crafts. Making ornaments out of cork is fun for kids of all ages. Cork ornaments will be treasured for years to come. They make original gifts for family and friends.
Making a cork ornament Christmas tree is easy. Materials needed are a hot glue gun, six corks cut lengthwise, and a ribbon. Arrange all but two of the cork pieces into a pyramid. Tie the ribbon around one of the cork ends and glue that as a tree topper on the top of the pyramid. Use the remaining cork as the tree trunk. Ready is the great looking Christmas tree.
The cute snowman cork ornament is easy to make. Cut out circles from a foam sheet according to the instructions on Kids Activities Blog. Cut and assemble two corks, a ribbon and goggly eyes with glue according to the instructions. Use a sharpie to add a face. The showman ornament will be treasured for years to come.
For detailed instructions and to get additional great Christmas tips, check out Kids Activities Blog this week. Come get inspired to create great memories this holiday season.
About Kids Activities Blog
Kids Activities Blog is a website created by two moms (who collectively have 9 children), Rachel Miller and Holly Homer from June Cleaver Nirvana. It is their daily goal to inspire parents and teachers to play with kids. This interactive website publishes simple things to do with kids twice a day. Kids Activities Blog is a great tool for moms and teachers to find kid-friendly activities that create memories and sneak learning into the fun.