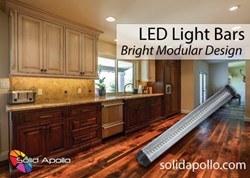 Customers now have a chance to enjoy our biggest savings ever on a new and improved product lineup, especially the RGB-W Strip, which is a Solid Apollo First!
Lynnwood, Washington (PRWEB) November 22, 2013
Solid Apollo's Cyber Monday Weekend Sale is the perfect opportunity to begin a journey into the world of LED Lighting. LED lighting reduces energy use, provides a safer and cooler lighting option, and is a flexible solution for any lighting need. Solid Apollo has a huge selection of LED products and configurations for unique lighting areas including outdoor waterproof lighting, indoor color control, and a wide selection of under cabinet and cove lighting.
The Cyber Monday Super Sale will run Friday, November 29th through Cyber Monday, December 2nd 2013. Shoppers can use the code "Gratitude" on multiple purchases to save 30% at checkout all weekend long, with Free Shipping Standard on every order. Every single item is eligible for the offer, and customers can use the code multiple times during the sale event.
For shoppers with outdoor and indoor lighting needs, this is a great opportunity to save big on AC Driverless LED strip: Solid Apollo LED's bestselling product. Driverless strip runs on a plug-n-play system which allows up to 160 feet of bright LED accent lighting without repowering or the need for a controller. Now customers can light up large distances with waterproof and durable linear light including paths, cove lights, patio lights and gardens. Solid Apollo's Driverless Strip has been slashed from a starting price of $39 down to $27 with each additional foot only $12 dollars. The North Seattle LED Lighting Company also offers LED wall washers and waterproof power options for outdoor lighting.
Beautiful, even under cabinet lighting can take a home or business to the next level of lighting, but can be tricky and difficult to install. Solid Apollo has created the perfect LED lighting fixture for lighting up work spaces, kitchens, pantries and more with their new under cabinet LED Light Bars. These self-contained fixtures can be mounted in a modular formation, providing bright LED light while saving energy. Available in 12in and 20in lengths, LED light bars fit nearly every countertop and workspace, and have a multitude of accessories for creating a flexible lighting solution. Throughout the sale, LED Bars will be discounted up to $25 off.
For Customers looking for even more custom lighting in their mancave, art project, or signage display can use the 10 Zone Controller with Solid Apollo's new ColorPro RGB + White LED Strip, which contains both color changing and white LEDs. By combining these two discounted items, customers can create a new variety of colors, in multiple zones, including a variety of pastel and bright white hues for unique architectural uses. The ColorPro RGB + White strip is discounted from $160 to $119 throughout the Sale.
Manuel Barquin, President at Solid Apollo LED, expressed his excitement at the 2013 Cyber Monday Sale, stating "Customers now have a chance to enjoy our biggest savings ever on a new and improved product lineup, especially the RGB-W Strip, which is a Solid Apollo First!"
Solid Apollo's 30% off Cyber Monday Sale is an amazing way for customers to stock up on LED Lights for the holidays, especially with free shipping on any order. In order to get this instant 30% off, simply use promo code "Gratitude" at check-out and receive 30% off from any purchase as well as free shipping. Feel free to take advantage of all of our great deals at solidapollo.com, or by calling 425-582-7533.
About SolidApollo.com: Solid Apollo is a cutting edge LED lighting company which designs, produces, and distributes a wide range of High Quality LED Lighting Products and lighting solutions to meet today's lighting demands. For more information visit: Solid Apollo at http://www.solidapollo.com or call toll free 425-582-7533. Order online or send an email to sales(at)solidapollo(dot)com.