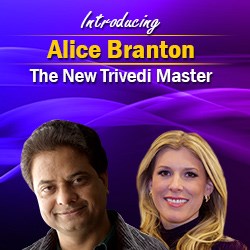 If divine has chosen me to serve Mr. Trivedi and his mission then it is the most valuable gift for me and nothing is more valuable in life for me. -Alice Branton
(PRWEB) November 17, 2013
"Transforming Humanity" the much awaited event under the banner of Trivedi Remote Workshop was successfully conducted on November 9, 2013 at 1pm ET to 7pm ET. This event was hosted by Mr. Fred Poneman and chaired by Mr. Mahendra Kumar Trivedi. This event holds a very significant moment in the history of human wellness as Mr. Mahendra Trivedi announced the New Master, who will play a great role in the process of transformation of mankind. This event included discourse by Mr. Trivedi followed by an address note by the New Master and also Energy Transmission sessions by the New Master, Mahendra Trivedi and Dahryn Trivedi.
Mr. Trivedi in his discourse focused on the journey of a master. He questioned the efficiency of Yoga, meditations and other techniques followed by people for achieving the Divine Wisdom. He said to become a master, the first step is individual's desire to be the master. But only having desire without eligibility, effort and commitment is meaningless. The choice of divine is the most important aspect for deciding a master.
Mr. Trivedi emphasized on the process of self-validation in the journey of a master. In this context he threw some light on his self-validation process during his initial period of journey to become a master. He mentioned the primary goal of master wellness programs is to connect people with the source of light that removes darkness from life. This darkness is the real cause of all problems in life such as mental, physical, sexual, financial etc. The Trivedi Masters act as a connecting link between people and the source of light. Above 150,000 people from all walks of life across the globe have got benefited from these master wellness programs. To get the glimpse of testimonials given by people visit http://triveditestimonials.com/.
Then came the much awaited moment; Mr. Trivedi announced Alice Branton as the New Master with all the vital potential for transformation of living beings and non-living materials as well.
Mr. Trivedi then revealed his journey with Alice Barnton, which started in July 2010 at a discourse in South Carolina, where he got the reference of Alice from a reporter. At that time Alice Branton was working as very senior executive in a big corporate in America. After many trials Mr. Trivedi could establish contact with Alice. In 2011 Alice came to Arizona to join Mr. Trivedi's mission of human wellness. He also mentioned the period of struggle full of challenges that Alice went through in the year 2012. In the meantime Mr. Trivedi got the message from the divine that a lady would come in his life as personal manager who would bring significant fortune and can run the great mission in a smooth way. So he started to search for the lady and in this process he interviewed more than 200 candidates but all failed. But to his surprise, Mr. Trivedi found Alice Branton as the divine's choice for this role.
Then Alice Branton was invited by Mr. Trivedi to say few words. She said that she was born with some special gifts from divine but gradually lost connection with the divine as she entered the busy corporate world. She had everything such as power, position, money etc. those define a successful person in this planet. But she was still searching for the real purpose of her life. She was missing peace, real happiness and that connection with the divine in her life as a result of which she was going through a period of identity crisis. She was constantly looking for the place where she can establish the divine connection. She was not able to follow any spiritual leader in the world but when she met Mr. Trivedi she could realize the truth. She went through energy transmissions and experienced good quality of sleep, real calmness along with dramatic relief from back pain she was suffering from for few years. She then decided to come to Arizona, join Mr. Trivedi and dedicate her life for the great mission of human wellness.
"If divine has chosen me to serve Mr. Trivedi and his mission then it is the most valuable gift for me and nothing is more valuable in life for me." -Alice Branton
Significant people including Mr. Jagdish Singh (Chief Operation Officer), associated with the organization were invited to share their journey with Alice Branton. The event was concluded with sessions of Energy Transmissions from the new master Alice Branton as well as Mr. Mahendra Trivedi and Dahryn Trivedi. Thanks to the participants across the globe who made this event grand and successful. Participants were delighted to know that they can be a part of the monthly enhancement program by the new master Alice Branton. To know about forthcoming events visit http://www.trivedieffect.com/events/.
To know more about the energy transmission and how to get benefited from this, visit http://www.trivedieffect.com/ or http://www.trivedimasterwellness.com/.