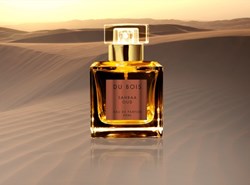 Oud oil is nature's own jewel and is regarded across the Middle East as one of the most valued assets
Bahrain (PRWEB) November 17, 2013
Jewellery Arabia is the largest and most prestigious jewellery exhibition in the Middle East, showcasing world-famous names and artisan designs from across the globe, taking place this year between the 19th and 23rd November at the Bahrain International Exhibition & Convention Centre, Manama. Already known for their luxurious range of fragrances and organic oud oils, Fragrance Du Bois was honoured with the invitation to participate and will also be displaying a range of custom-made agarwood jewellery pieces on their twenty-four-square metre stand - # 134 at the exhibition in conjunction with the luxury Mohamed Al Fardan Group.
"Oud oil is nature's own jewel and is regarded across the Middle East as one of the most valued assets," says Nicola Parker, Brand Director of Fragrance Du Bois. "Oud is created as a natural defensive response by the agarwood tree when infected with certain types of mould and once extracted and refined into oil, it creates one of nature's most highly prized natural resources."
Fragrance Du Bois exhibits will centre around Sahraa Oud from their premium Privé collection, a bespoke Oud fragrance with the subtlety of Rose Absolute that captures the essence of desert wilderness; the vastness of windswept sand dunes of the Arabian Desert combined with hope and elusive qualities of an oasis; strong, woody, musky with an intoxicating hint that reveals the fresh, sweet, sensual and stimulating scent of nature. It simply illustrates the term 'liquid gold' and just one of a range of products that Du Bois bring to the Gulf from sustainable and organically sourced agarwood and Oud.
Du Bois' exquisite line of fragrance is guaranteed to only use 100% pure and genuine oud oil produced from its plantation trees managed by Asia Plantation Capital and is one of the very few pure oud oils to hold an official certification from the IFRA (International Fragrance Association). "Recently, the international fragrance industry has seen a proliferation of new Oud-based fragrances, which makes it the most in-demand fragrance components in the world," adds Nicola. "But it is surprising how some of them do not even contain real Oud. Such is not the case at Du Bois, where the originality of our Oud is absolutely guaranteed. We even allow bespoke buyers to sample and select their specific oils before the fragrances are created."
According to Mohamed Al Fardan, Chairman of Mohamed Al Fardan Group, the pioneer of luxury watches and jewellery in the Middle East, the wearing of Agarwood jewellery is well known to promote health and prosperity. "Being a Gulf national, I am no stranger to Oud and Agarwood, and am well aware of its cultural significance. By combining this treasure with ultra-exclusive handmade designs embossed with diamonds and gold, Du Bois has successfully created a unique and exclusive fashion accessory that truly embodies the definition of the nature's jewel."
Jewellery Arabia 2013 features exhibits from 600 companies who will descend on Manama from over 30 countries. In addition to six large national pavilions from Brasil, Hong Kong, India, Malaysia, Singapore and the United Kingdom there will be eminent brands from the world of jewellery and watches including Audemars Piguet, Cartier, Chopard, De Beers, Graff Diamonds, Harry Winston, Hublot, Patek Phillipe, Piaget and now Du Bois with their organic oud oil, bespoke fragrances and custom pieces of jewellery. Important regional companies such as the Mohamed Al Fardan Group also have a dynamic presence at these prestigious exhibitions.