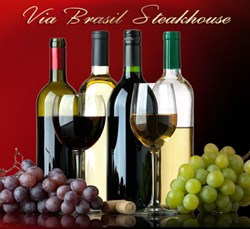 The Happiest Happy Hour only at Via Brasil Steakhouse in Summerlin.
Las Vegas, Nevada (PRWEB) November 18, 2013
Appetizers starting at $3,5
BLACK & BLUE NY STEAK CROSTINIS
Seared NY Steak, Caramelized Onion, Bleu Cheese Whip Cream & Port Wine Reduction on Toasted Bread
BEEF SATAYS
Marinated Beef, Baby Bok Choy & Sweet Chili Lime Aioli
BEEF CARPACCIO
FRIED CALAMARI
BRAZILIAN FISH & CHIPS
BACON WRAPPED SHRIMP
Shrimp wrapped in Bacon stuffed with Cream Cheese on bed of White Rice with BBQ Sauce
SAFFRON MUSSELS
Black Mussels, Roasted Peppers, Caramelized Onion in a Saffron
BrothPAO DE QUEJO
Brazilian Parmesan Cheese Rolls
BRUSCHETTA
Tomato, Capers, Kalamata Olive, Red Onion & Balsamic Reduction
MEDITERRANEAN CHICKEN SKEWERS
Cucumber Yogurt Sauce, Olives, Capers & Oregano
FRUIT & CHEESE PLATE
CURED MEAT & CHEESE PLATE
ARTICHOKE HEARTS
Lightly Breaded & Fried with Sesame Aioli
SALGADINHOS
Assorted Brazilian Appetizers; Brazilian Meatballs, Breaded Cheese Balls, Shrimp Empanada, Breaded Minced Chicken
WEDGE SALAD
Romaine Heart, Avacado, Baco, Tomato, Hard Boiled Egg & Bleu Cheese Crumbles
VIA BRASIL GARBAGE SALAD
Spring Mix, Red Pepper, Cucumber, Spanish Olive, Fresh Mozzarella, Cherry Tomato, Salami, Prociutoo, Capicola with House Vinaigrette
ASPARAGUS RISOTTO ENTREE
Arborio Rice, Lemon Zest, Parmesan & Marscarpone
ROAST CHICKEN ENTREE
Mushroom Risotto, Parmesan 7 Fresh Herbs
BLACKENED SALMON ENTREE
Garlic Spinach, White Rice & Passionfruit Cream Sauce
CIOPPINO ENTREE
Clams, Mussels, Shrimp, Calamari, Catch of the Day in Spicy Tomato Broth
NY STEAK ENTREE
Grilled Asparagus, Rosemary Demi-Glace with Garlic Romano Steak Fries
VIA BRASIL STEAK SALAD
Spring Mix, Red Pepper, Cucumber, Cherry Tomato, Prime Steak with Kalamata Olive Caper Vinaigrette
CAESAR SALAD
Traditional Caesar offered with or without Chicken
CAPRESE SALAD
Fresh Mozzarella, Tomato, Mixed Greens & Balsamic Reduction
Picanha "Signature Cut" Top Sirloin
SLIDERS STARTING AT $5.5
SMOKED GOUDA
Angus Beef, Caramelized Onion with Fries
BACON & PROVOLONE
Angus Beef, Honey Dijon with Fries
FILET MIGNON SLIDERS
Gorgonzola, Portobello Mushrooms, Port Wine Reduction with Fries
CHICKEN
Spinach, Roasted Peppers, fresh Mozzarella, Herb Aioli with Fries
MEATS BY OZ Starting at $2,2 per OZ
Prime Rib,Flank Steak,Petite Filets,Beef Ribs,BBQ Pork Ribs,Brazilian Pork,Double ,Cut Lamb Chopps,Chicken Drumsticks,Sausage
"ULTRA SATURDAY HAPPY HOUR " MENU - 8pm-close
$7.5 Jack Daniels, Crown Royal, Jameson,Bombay Sapphire, Kir Royal $8,5 Knob Creek,Chivas Regal,Grey Goose,Remy VSOP $14,5 Don Julio $20 Remy XO, $30 JW Blue
$5 Appetizers Wedge Salad,Filet Sliders,Saffron Mussels,Salgadinhos,Chicken Skewers
$20 Fruit and Cheese plate with 2 glasses of Wine
Cocktails starting at $5.50 & Premium Cocktails at $7.50
MEATS BY OZ Starting at $2,2 per OZ till 9pm only
Prime Rib
Flank Steak
Petite Filets
Beef Ribs
BBQ Pork Ribs
Brazilian Pork
Double Cut Lamb Chopps
Chicken Drumsticks
Sausage
About Via Brasil Steakhouse:
Via Brasil Steakhouse is a Brazilian Steakhouse/Churrascaria located on 1225 S. Fort Apache Road LV NV 89-177, offering diners the unique service style of Rodizio Dinner, featuring 18 Meats served tableside, Gourmet Salad/Appetizer Bar and 16 side dishes all you can eat for a fixed price of $45.99.Children 4 years old and under Rodizio Dinner is FREE and Children 5-6 years old dinner is only $4,99 and Children 6-12 Years old Rodizio Dinner Adult half price .
*Every Sunday join us for Rodizio Brunch. 10AM - 2PM enjoy one of Las Vegas Best Brunch's with over 50 items All-you-can-Eat. Featuring 6 succulent Meats served tableside, Chef's Made to Order Omelet and Waffle Station and Gourmet Salad bar filled with great brunch options for $24.99.
*********************************************************
Thanksgiving Nov. 28
Lunch with 12 Meats+ Whole turkey ,Salad Bar and Side Dishes AYCE from 11am -2:30pm $38.99 (Last reservation at 2pm)
Dinner with 20 meats, salad bar and side dishes 3pm – 9pm $46.99 + Whole turkey
Salad Bar with 35 hot and cold appetizers for $28.99 all Day. (Does not include Turkey)
All guests will receive a $20 dining cards
****************************************************************
Xmas Eve Dec. 24 Dinner hours 3pm – 9pm
Regular Rodizio Dinner Menu in a Dining room with 20 Meats, Salad Bar and 18 Side Dishes AYCE for $45.99 includes smoked ham
All guests will receive a $20 dining cards
**********************************************************
Xmas Day Dec. 25
Lunch 11am -2:30pm $38.99 (Last reservation at 2pm) 12 Meats will be offered plus smoked ham, Salad Bar with 35 hot and Cold Appetizers and 4 Side Dishes AYCE
Regular Rodizio Dinner Menu in a Dining room with 20 Meats, Salad Bar and 18 Side Dishes AYCE 3pm – 8:30pm $46.99
Salad Bar with 35 Hot and Cold Dishes for $28.99 all Day.
All guests will receive a $20 dining cards
**************************************************************
NYE Dec. 31
1. Dinner Regular Rodizio Dinner Menu in a Dining room with 20 Meats, Salad Bar and 18 Side Dishes AYCE 4pm – 9pm $46.99
Kids Dinner 7 -12years ½ Price $23.50. 5 & 6 years old Children price $4.99
NYE Dinner Party 10pm – 2am seating 10, 10:15, 10:30 & 10:45
$79.99 Dinner and dessert
Kids 7 -12years ½ Price $40. 5 & 6 years $4.99
Couples Champagne Package $220 including 2 dinners, 2 desserts and one bottle of champagne
Open Bar Package with Dinner, soda, coffee tea and dessert with Open Bar for 2 hours for $125 each
DJ&Dancing.All guests will receive a $20 dining cards