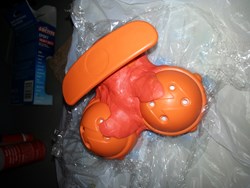 (PRWEB) November 22, 2013
Zing Partners LLC development team has tackled making significant modifications available to a wide audience without incurring industrial design and tooling costs. Two and three device combinations formerly built up using Milliput epoxy putty have been produced using the new self-setting rubber that can be formed by hand, sugru. The ease of creating new combinations with a new, readily available product with a strong bond and quick cure allows the design process to accelerate.
sugru is designed to stick to as many other materials as possible. It forms a strong bond to aluminium, steel, ceramics, glass, wood and other materials including some plastics like perspex and ABS and rubbers like silicone and butyl rubber as well as the glass-filled polypropylene of the Zippy RBT shell. sugru moulds like play-dough, bonds to almost anything and turns into a strong, flexible silicone rubber overnight. Developed by a team of product designers and material scientists, sugru's patented technology is unique in its combination of hand-formability, self-adhesion and flexibility when cured. It feels like modelling clay, and it's that easy to use too. Once cured, its durable properties mean it's comfortable in extreme environments from the dishwasher to the ocean in Antarctica. Zippy designers appreciate the "ready, out of the package" aspect of the putty that air dries and sticks to the Zippy shell. http://www.sugru.com
Photos are posted on the sugru Gallery. http://sugru.com/gallery/join-two-zippy-devices.
Zing Partners LLC manufactures, and distributes Zippy Rolling Ball Therapy (RBT) massage devices in Phoenix, AZ, USA. Zippy devices combine a regulation golf ball (the perfect size and shape for massage) with a custom manufactured, precision engineered, durable shell so the ball can be held comfortably. With personal use or in professional therapeutic sessions, full control of the golf ball opens a myriad of opportunities for effective use. Zippy RBT devices make relaxing massage available anywhere.
Zippy RBT golf ball massage therapy tools are used daily by athletes, active personal users, and professional therapists. Zippy tools are valuable to use for general health, peak performance, relaxation, and provide exceptional results in recovery from strenuous exercise and training through efficiently improving circulation in all body parts. Zippy massage tools provide an easy interface to gently and effectively relax sore muscles, work tissue around joints, realign scar tissue, sooth deep muscle injury, untie "knots," and soothe muscle spasm.
Zippy RBT models, which include: The Basic, The Rocker Handle, and The T-Handle, are being combined in a variety of combinations to demonstrate the range of devices that can be created from the original three models. Each model is the right size and shape for anytime, everywhere use. Visit http://www.zippymassage.com for more information. Zippy RBT is made in the USA!
View video http://youtu.be/Wkc61AfrhhQ. Visit Zippy RBT – Rolling Ball Therapy on Facebook. Follow @ZippyRBT on Twitter. Zippy Rolling Ball Therapy.
Zippy RBT is be offered in the October and November Massage Magazine and Holiday gift editions in print and on-line. Zippy RBT appreciates Massage Magazine, its subscribers, and staff.