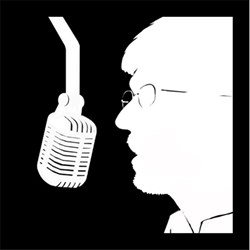 This is an on-air tightrope walk. I don't know how Benjamin does it—but he does it every week!
McLean, VA (PRWEB) November 18, 2013
Benjamin Levisay, CEO of XRX Publishing, publisher of Knitter's Magazine and XRX Books, wrangler of the Stitches Expos, and Fiber Hooligan Podcast host—will have Heather Ordover on his show Monday, November 18, 2013 at 11am central time.
Levisay, a mainstay of the knitting-publishing world and a relative newcomer in the podcasting world, sounds as though he was born for his audio job. His soothing, melodious voice is exactly what listeners gravitate towards as they go about their busy days. And there is no doubt that as an industry leader in the knitting/crafting world, Levisay is well connected enough to bring interesting and important guests to his show. Previous guests include Franklin Habit, Debbie Macomber, Meg Swansen, Marly Bird, Gwen Bortner, and Andi Smith.
This week his guest is Heather Ordover, host of the long-running CraftLit® podcast, editor of the "What Would Madame Defarge Knit?" series, and author of the young adult novel "Grounded," the first book in "The Seven" series. Ordover's podcast, "CraftLit: A Podcast for Crafters Who Love Books", takes listeners through classic books one chapter a week, providing listeners with the background, historical, and social information that modern audiences need to unlock these older texts. When the books are complete, they are compiled into audiobook formats and put up for sale in Ordover's online shop. A former high school teacher, Ordover was known to "teach to the joke" having realized that one good reason to know (and love) the classics is because you're more likely to get inside jokes at parties.
However, *her* podcast is recorded in a home studio, edited, and then released through Libsyn's podcast hosting site. "I haven't been this excited (and nervous) about an interview since I spoke to Marly Bird on her show," Ordover said. "I'm used to editing my audio and having a chance to cut out the lousy bits. This is an on-air tightrope walk. I don't know how Benjamin does it, but he does it every week!"
Fiber Hooligans can be heard weekly on Mondays at 11am Central time from it's BlogTalkRadio site and on iTunes.
CraftLit podcast can be heard weekly via its site, iTunes, Stitcher Radio, or the CraftLit smartphone app. New episodes appear Friday afternoons. Premium content posts on Saturdays.
Levisay can be found at his Knitting Universe site and online on Twitter, Facebook, Pinterest, Google+,Instagram, & Ravelry as BenjaminXRX.
Ordover can be found via her hub site at Crafting-a-Life and on her CraftLit Facebook page and Twitter as MamaO.