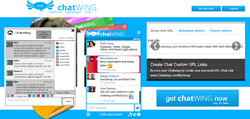 Dallas, TX (PRWEB) November 21, 2013
Chatwing.com and its team of developers are planning to roll out a new chat software upgrade. This time, the company will focus on speeding up the widget's email query system. With this upgrade, Chatwing Team is certain that more users will be able to use the chat software with ease. Questions about customization and chatroom security will also be handled fast.
"The query system is already reliable back then. However, we cannot deny that some issues have appeared. These issues were mostly about email delivery speed and delay in responses," Shelly Miller said; she is one of the professional researchers for the company. Ms Miller is also responsible for conducting user-based studies in different communities. "With this upgrade, all of the remaining issues will be solved and users can have the information they need within short amount of time. After the chat room upgrade, we will focus on the improvement of the widget."
Before the year ends, Chatwing Chat App Team is planning to roll out various improvements to the chat app. The most-awaited mobile feature is expected to hit the cyberspace by November and more chat networks will also be introduced. Premium subscribers of the software can also expect for more services and coin payment options.
Chatwing.com is continuously posting updates in social networks. Through this dedication, web users can learn more about the company's latest strategies and plans. Additionally, the company will also post short video tutorials to help users create beautiful and reliable chatrooms.
About Chatwing.com
Chatwing.com is a company that has brought innovation to the modern chat widget. Operating for more than five years now, Chatwing and its team of developers have dozens of ideas ready to be introduced to the public. The Chatwing chat app is an easy-to-use online tool that can help web users interact with each other and can also generate continuous traffic. Chatwing will always be a "freemium" application for everyone.