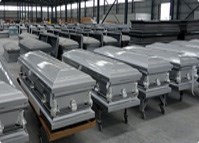 (PRWEB) November 18, 2013
Millionaire Casket is a famous casket company, because it can beat any competitor in quality or price. It is widely known by many casket distributors worldwide. Today, the company launches a casket promotion for its customers around the world, up to 39% off.
This promotional campaign is designed to promote geographical access to its excellent casket designs. As a leader in the casket industry, Millionaire Casket has experienced a fast growth in term of sales turnover in the past few years.
Millionaire Casket's primary goal is to deliver true value for customers' money. Casket distributors can discuss the latest trends and technologies at its website of MillionaireCasket.com, and communicate with the engineers from the company that keep high standards for all clients. Each casket from Millionaire Casket has a special locking system which makes the caskets hard to open once locked.
According to the CEO of the company, all caskets are offered at discounted prices, and the special offer is valid until the end of this month. "We are committed to providing high quality caskets for our clients. Our highly accomplished creative team works with new technologies and can create custom caskets based on customers' requirements."
Millionaire Casket is providing a lot of metal caskets, solid wood caskets, cremation caskets, veneer caskets and more. Its sales turnover is expected to double within the next two years.
About Millionaire Casket
Millionaire Casket (MillionaireCasket.com) is a leading China casket manufacturer, and focuses on the business of casket wholesale. The standard quality control policy is strictly applied here, and a third party quality assurance is also available.
Visit http://www.millionairecasket.com/ for more details.