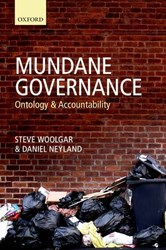 Oxford, Oxfordshire (PRWEB UK) 21 November 2013
A new book Mundane Governance by Professor Steve Woolgar of Saїd Business School, University of Oxford and Professor Dan Neyland of Goldsmiths, University of London examines the increasingly regulated world of everyday objects. The book takes concerns about waste disposal, the proliferation of speed cameras and heightened security measures at airports – trash, traffic and transit - as the starting point for exploring the ways in which governance and accountability in contemporary life are organized around ordinary, everyday, pervasive objects and technologies.
'Our lives are increasingly regulated and controlled through ordinary objects and technologies. This may appear trivial but this "regulation by stealth" has repercussions for us all' says Professor Woolgar. 'There was a time when rubbish was just rubbish. These days rubbish has become an issue – for individual householders, for local authorities, for commercial interests and even for national government. Whether we like it or not, we are now all participants in a complex, moral system of waste disposal. Anyone who gets it wrong is open to sanction – not just the moral sanction of neighbours, but the very real sanction of legal action in some instances. How did this all happen?'
Ordinary stuff now has political and social significance and now involves the setting and operation of rules and the monitoring of behavior in relation to those rules. How is this done, is it 'fair' and should we have a say? Are there alternative ways that these issues could be addressed? What is the justification for the differences that prevail county to county across the UK and beyond? Where do we draw the line between the protection of civil liberties and necessary regulation?
'Increasingly there is concern about the pervasive creep of regulation and control in our everyday lives, often through seemingly inconsequential objects and routines' says Professor Neyland. 'In the media there is frequent coverage of citizens' outrage around recycling, speed cameras, parking restrictions, ID cards, storage of personal data, airport security, food safety and labelling, and many more means by which our actions are shaped or our freedoms limited, often without any discussion or communication of the underlying logic or alternatives. The so-called "post-code lottery" of this is also of concern whereby the speed at which cameras are triggered varies from area to area, and in some regions speeding drivers may have the opportunity to attend a "re-education" course whereas in others they will receive penalty points. At its worst, this can all seem random, even Orwellian to observers. We wanted to explore what is going on here and to understand just how local authorities and others are exercising this control, and how these new systems become established and quickly carry moral authority – without any of us agreeing to the process. We wanted to raise awareness of this development which has been largely neglected by researchers, and to ask what scope there is to challenge these emerging moral orders?'
'One thing is certain, mundane governance is on the rise, infiltrating and taking over more and more areas of life' says Professor Woolgar. 'Like it or not we have all become centrally involved in a system of governance of which we might not be explicitly aware. The most powerful form of social control is to convince people to control themselves. So, rather than targeting the manufacturers of packaging to make dramatic improvements, consumers have become the focus of environmental efforts through recycling schemes. Rather than focusing on the producers of fast cars, drivers are held accountable for speed. And so it goes on. Citizens seem to have little power, but have been given much of the responsibility in this new landscape. What emerged from our study is a complex picture of the very fluid, messy and changing nature of governance. Perhaps we should open up a discussion on the issues.'
Professor Woolgar and Professor Neyland are available for comment. To speak with them or for further information, please contact the press office:
Clare Fisher, Head of Press Relations, Saïd Business School,
Mobile: +44 (0) 7912 771090 ; Email: clare.fisher(at)sbs(dot)ox(dot)ac(dot)uk
Josie Powell, Press Officer,
Mobile +44 (0)7711 387215, Tel: +44 (0) 1865 288403 Email: josie.powell(at)sbs(dot)ox(dot)ac(dot)uk or pressoffice(at)sbs(dot)ox(dot)ac(dot)uk
Notes to editors
About the book
http://ukcatalogue.oup.com/product/9780199584741.do
About the authors
Steve Woolgar is Professor of Marketing and Director of Science and Technology Studies at Saïd Business School, University of Oxford. He was formerly Professor of Sociology, Head of the Department of Human Sciences, and Director of CRICT (Centre for Research into Innovation, Culture, and Technology) at Brunel University.
Daniel Neyland is Professor of Sociology at Goldsmiths College. He was previously Lecturer in the Management School at the University of Lancaster, and Senior Research Fellow at Saïd Business School, University of Oxford.
About Saїd Business School
Saïd Business School at the University of Oxford blends the best of new and old. We are a vibrant and innovative business school, but yet deeply embedded in an 800 year old world-class university. We create programmes and ideas that have global impact. We educate people for successful business careers, and as a community seek to tackle world-scale problems. We deliver cutting-edge programmes and ground-breaking research that transform individuals, organisations, business practice, and society. We seek to be a world-class business school community, embedded in a world-class University, tackling world-scale problems.
In the Financial Times European Business School ranking (Dec 2012) Saïd is ranked 12th. It is ranked 13th worldwide in the FT's combined ranking of Executive Education programmes (May 2013) and 24th in the world in the FT ranking of MBA programmes (Jan 2013). The MBA is ranked 5th in Businessweek's full time MBA ranking outside the USA (Nov 2012) and is ranked 5th among the top non-US Business Schools by Forbes magazine (Sep 2013). The Executive MBA is ranked 23rd worldwide in the FT's ranking of EMBAs (Oct 2013). The Oxford MSc in Financial Economics is ranked 6th in the world in the FT ranking of Masters in Finance programmes (Jun 2013). In the UK university league tables it is ranked first of all UK universities for undergraduate business and management in The Guardian (Jun 2013) and has ranked first in nine of the last ten years in The Times (Sept 2013). For more information, see http://www.sbs.ox.ac.uk/