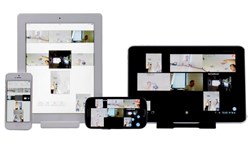 "We now provide each and every customer with the most effective approach to collaboration, known as BYOD," says Michael Gotalsky, TrueConf CEO.
(PRWEB) November 20, 2013
Following the release of TrueConf Mobile 1.2, users of TrueConf video conferencing products can always stay connected, regardless of geographic location or operating system. With full support for Android and iOS, users can now participate in TrueConf group video conferences using a wide range of devices: desktops and laptops running on Windows or OS X, mobile devices on iOS and Android, as well as browsers using WebRTC technology. The support of scalable video coding (SVC) technology allows mobile video conference participants to receive high quality video and audio even on slow connection channels.
"Group video conferences on Android devices was the final step in TrueConf's push for complete video conferencing support for mobile enterprise employees," says Michael Gotalsky, TrueConf CEO. "In other words, we now provide each and every customer with the most effective approach to collaboration, known as BYOD (Bring Your Own Device)."
The new version of TrueConf Mobile 1.2 supports all types of multipoint video conferences (symmetric, asymmetric and virtual meetings for up to 250 people), which can be created directly from a mobile device. All video conferences with 3 or fewer participants are free.
Users can access their contacts and call history from any device. During a conference, users have access to the full list of participants and the ability to "take the podium" in virtual meetings. The video conference Host can manage the list of participants, and can invite and remove participants right from the mobile interface. TrueConf Mobile uses accelerated video stream processing using 3G, 4G and Wi-Fi networks, and requires connection speeds of 64 kbit/s or over.
TrueConf Mobile applications are available for free download in the App Store and Google Play.
For further information, please contact:
Michael Gotalsky,
TrueConf CEO
Tel: 1-347-TRUECNF (1-347-878-3263)
E-mail: mgotalsky(at)trueconf(dot)com
About TrueConf http://www.trueconf.com
Founded in 2003 in Moscow, TrueConf is a leading East European video conferencing vendor. The company is focused on collaboration solutions and offers an SVC-based MCU-less unified communication software platform. TrueConf has developed a full software suite suitable for corporate IP networks and all popular PC and mobile platforms, offering the convenience of both cloud-based (TrueConf Online) and server-based (TrueConf Server) video conferencing products. TrueConf Server offers a Full HD video experience and the ability to support multi-point videoconferences with up to 250 participants (using UDP Multicast).
TrueConf has facilitated over 1300 successful video conferencing solutions for governments, educational institutions, financial establishments, small businesses and corporations involved in all types of activities. The company developed the world's first 3D video conferencing application and has made significant advances in mobile conferencing and gesture-control video conferencing systems.