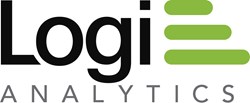 There's no better way to promote a sport than to empower reporters with a tool that can help them write compelling, data-driven stories about the athletes they follow.
McLean, Va. (PRWEB) November 19, 2013
The LPGA and Logi Analytics today announced a new partnership that will make Logi Analytics the "Official Analytic Software Partner" of the LPGA.
The LPGA first partnered with Logi Analytics earlier this year, providing business intelligence and analytics technology to power its all new "Online Media Center." The Online Media Center powered by Logi Analytics will empower global media covering the LPGA Tour with analytical capabilities and tools to report on player statistics, tournament information, all-time LPGA records and additional LPGA information.
"Simply put, our job is to help the media tell our story," said Kraig Kann, LPGA Chief Communications Officer. "There's nothing more important than having the tools to do it and this is a big step forward for the LPGA. Logi Analytics has been a terrific partner in building something we're all proud of and together, we'll keep working to provide media members with an Online Media Center that serves their needs."
The LPGA's new Online Media Center, to be unveiled Tuesday during the LPGA's season-ending CME Group Titleholders event, replaces a previous version with a new look and feel, easier content management and self-serve analytic capabilities for the for media to report LPGA stats. The long-term partnership with Logi Analytics will ensure the Online Media Center continues to evolve with enhancements set to be added over the coming year including tournament-specific stats and the addition of other historically based information.
Today Logi Analytics supports the business intelligence and analytics initiatives of more than 1,000 companies around the globe to help them deliver meaningful information to their employees, partners and customers in a faster, more flexible and less expensive way.
"After an extensive evaluation of Business Intelligence vendors, Logi Analytics was the clear choice to power the Online Media Center" said Jack Sumner, Chief Information Officer for the LPGA. "The key differentiators were the ease and speed of development and the ability to embed the reports inside of the SharePoint."
"There's no better way to promote a sport than to empower reporters with a tool that can help them write compelling, data-driven stories about the athletes they follow," said Brett Jackson, president and CEO of Logi Analytics. "The LPGA is taking the lead in bringing analytics to professional women's golf, starting with its 'Online Media Center.' Logi Analytics provides an extremely easy-to-use tool that any reporter - with no expertise in data or technology - can use to uncover new insights, using both real-time and historical data. By partnering to support the LPGA media center, we can help evolve the game with analytics and drive interest among a much greater audience of sports enthusiasts."
About the LPGA (Ladies Professional Golf Association)
The LPGA is the world's leading professional golf organization for women. Founded in 1950, the association celebrates a diverse and storied membership with more than 2,300 members representing more than 30 different countries. With a Vision to inspire, empower, educate and entertain by showcasing the very best of women's golf, LPGA Tour Professionals compete across the globe, while dedicated LPGA Teaching and Club Professionals (T&CP) directly impact the game through teaching, coaching and management. The Symetra Tour consistently produces a pipeline of talent ready for the world stage. The LPGA is headquartered in Daytona Beach, Florida.
Follow the LPGA on its television home, Golf Channel, and on the web via: LPGA.com, facebook.com/lpga.official, twitter.com/lpga, and youtube.com/lpgavideo.
About Logi Analytics
Logi Analytics enables organizations to put real-time information to work by allowing users to create web-based BI and analytic applications that can be integrated directly within organizations' applications, systems, and processes – all at a fraction of the cost of other solutions. Unlike traditional enterprise BI platforms that are complex, costly and lack agility, Logi Analytics' technology allows organizations to rapidly develop, deploy, and adapt applications to serve business users evolving needs. Logi Analytics is headquartered in McLean, Virginia, with sales and support offices in the UK serving Europe. The company is a privately held, venture-backed firm with investments from LLR Partners, Updata Partners, Grotech Ventures and Summit Partners.